Water management in Vietnam
Management of industrial wastewaters from the metal processing industries and decision support for municipal planning of wastewater management measures were the topics of the workshops held on 14 and 15 May, 2009 in Nam Dinh/Vietnam, bringing together actors from industry and local government. The workshop was prepared and organized by Fraunhofer UMSICHT in collaboration with the Vietnamese Institute of Geological Science, the Nam Dinh Provincial Department of Science and Technology (DOST), and the People´s Committee Nam Dinh in the framework of the BMBF funded research project IWRM Vietnam. The research project focuses on methods to implement an Integrated Water Resources Management concept in order to enhance improved and sustainable water and land use in river basin areas.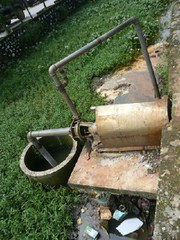 Vietnam is a rich in water resources, nonetheless, lacking infrastructure and drought periods in some regions have caused widespread problems in water supply and in waste water management. The fast urbanization and industrialization processes and the intensive agricultural development are further reasons for the increasing demand on water supplies and rising amounts of wastewater to be managed. The only remedy here is an efficient water management.
This is where the research project IWRM Vietnam, launched in 2006 by the German Federal Ministry of Education and Research (BMBF) has its starting point. Under the joint leadership of the universities of Bonn, Greifswald and Bochum, a co-operation network between German and Vietnamese partners from universities and research institutions as well as from local and regional authorities and industry has been established. The project aims at analysing the growing problems in water supply and management in three different regions of Vietnam and preparing instruments for an Integrated Water Resources Management – IWRM. The centrepiece is a jointly with Vietnamese partners developed, modular Planning and Decision- Support System (DSS) which may be easily transferred to other regions due to its structure. Further, first technical solutions are planned to be implemented, assisted and supported by German industry partners, and professional training programmes for local and regional actors will be introduced and improved. The two-day workshop on May 14 -15, 2009 in Nam Dinh, Red River Delta, organized by Fraunhofer UMSICHT in conjunction with the Vietnamese Institute of Geological Science and the DOST, is part of the workshop training programme of the project »Integrated Water Resources Management Vietnam, Development of a Planning and Decision-Support Tool, subproject: Region Nam Dinh«, funded by the German Federal Ministry of Education and Research.
On the agenda of the first day was the industrial waste water purification from metal processing industries, the second workshop day was dedicated to the discussion upon decisionsupport for municipal planning measures for wastewater treatment in Nam Dinh. Representatives from the related industries and municipal authorities were participating.
Visits to industrial facilities (metal construction, textile, brewery plants and a composting installation) and trips to waste water treatment plants in the province completed the workshop programme with practical examples giving ample opportunity for exchanging technical experiences. Wastewater management gives rise to considerable concern in the Nam Dinh Province and should not be underestimated. Apart from the textile industry, wastewaters from metal-working plants and the food industry are the major challenges for the regional Integrated Water Resources Management in Nam Dinh.
Wastewaters from metal processing industries are extremely complex mixtures, partly containing highly toxic components such as acids, cyanides, chromates and heavy metals. The objective of the project is to support local decision-makers in choosing the appropriate treatment method out of a range of easily applicable and advanced techniques (such as metal precipitation, ions exchange) to be implemented in local industrial complexes and individual companies.
The kick-off meeting of the workshop and training programme was held in 2007 and focused on decentralized / central wastewater purification, followed by a two-week training course for Vietnamese decision-makers organized in Germany during October 2008.
Contact:
Fraunhofer-Institut für Umwelt-, Sicherheits- und Energietechnik UMSICHT
Osterfelder Straße 3
46047 Oberhausen
PH.: +49 208 8598-0
Fax: +49 208 8598-1290
E-Mail: info@umsicht.fraunhofer.de
Internet: www.umsicht.fraunhofer.de