Water From the Sun: Power for the Enewetak People
The Enewetak people of the Marshall Islands, whose fresh water supply is threatened by rising sea levels and severe drought, turned to Moana Marine LLC, who just completed installing their 100 percent solar and wind-powered water purification system that converts sea water into safe, healthy&drinking water, while also providing the community with a source of clean, renewal energy, granting them both water security and energy independence. This remarkable new technology, developed by Tom Vance, can be adapted for use anywhere in the world where fresh water is needed.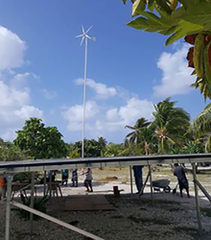 In an historic moment, on April 5th, 2018, Moana Marine completed the installation of the largest wind and solar powered, reverse osmosis water making system in the Marshall Islands, ushering in a new era of water security and energy independence for the 850 local inhabitants of Enewetak Atoll.
The Enewetak people have endured a long history of occupation, displacement and devastation, first at the hands of the Japanese during World War II, then becoming the site of 43 American nuclear bomb test explosions during the 1950's. The ancestral home they were once forced to evacuate, that was partially vaporized by America's first open air hydrogen bomb explosion, is now home to a state-of-the-art ground mount, solar array and hybrid powered water making plant.
This extraordinary accomplishment was achieved by the nearly superhuman effort of Moana Marine's founder, Tom Vance, who designed the plant, combining the cutting-edge technologies of Spectra Watermakers, Midnite Solar, OutBack Power, IronRidge and MorningStar. With his keen engineering know-how and 20 years' experience in the Pacific Island region, Vance created the robust, 17 KW, hybrid, wind and solar system to power the two Spectra LB-2800 water making units which provide the people with 5,600 gallons of fresh, pure, mineral enhanced, drinking water every day.
Vance's solar design also generates electricity for sustainable, community-enhancing projects, including a solar greenhouse and an electric vehicle charging station. Vance led every phase of supply and construction, working to install this life-saving plant in brutal tropical conditions.
After surviving the vestiges of man-made nuclear bomb testing, the Enewetak people now face another threat—this time from global warming—which is causing sea levels to rise, threatening their freshwater supplies. Severe drought conditions prevail. This new plant will help them battle these threats by turning sea water into safe drinking water.
In an environment where logistical challenges often breed failure, Moana Marine's impressive track record is unmatched. The company's installations are the most reliable and long-lasting, hybrid powered, R.O. water-making systems in the Pacific, with installations on Utrik Atoll (2010), Kili Island (2014), Ailuk Atoll (2016) and now Enewetak. All of the plants are operated and run by local technicians, trained by Moana Marine.
Vance credits his success on the willingness of the local population to work in tandem with him through each stage of the five-week construction and implementation period. This unique, culturally sensitive relationship builds a sense of ownership and pride among the workers who bond in the positive momentum of the project. Together, they endure the intense pace, extreme heat and arduous tasks of shoveling cement, drilling into reef rock and hoisting heavy equipment to establish a source of clean water in the community.
The effects of their success and resulting mastery are far-reaching. Tom Vance is also quick to praise the U.S. Department of Interior for their steady hand in funding this type of project.
Moana Marine, with offices in Majuro, Marshall Islands and Port Townsend, Washington, is expanding its focus to a 5-prong approach to sustainable, community independence: water security, food security, power source security, electric vehicle charging and wireless internet. "We believe in supporting local economies in gaining strength, independence, and climate change resilience, by producing clean, affordable, accessible power, to establish water and food security, transportation and communication reliability, into the future," Vance Says. "We call this Community Power."
Tom Vance is currently adapting his unique designs to serve another pressing need around the world—wind and solar-powered units that can be rapidly deployed after a natural disaster strikes. Moana Marine will soon offer a trailer-able R.O. station that will be powered by wind and solar and includes wireless internet, which will provide immediate help in areas left without power and water.
Contact
Moana Marine LLC
Tom Vance
Owner
227 Bellevue Way NE #438
WA 98004 Bellevue
United States
Phone:
+1 425 440-0724
E-Mail:
info@moanamarine.com
Internet:
To website