Vertical Pipe Repair Says, "No" to More Digging: Why Cured-In-Place Piping Is the Way to Go
Vertical Pipe Repair offers new CIPP technology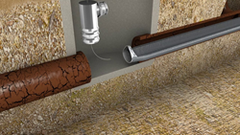 "No more digging," say the experts at Vertical Pipe Repair. In the past, traditional pipe repair has been known to be a messy ordeal. Luckily, today, pipe repair no longer needs to be so difficult. The evolution of pipe repair over the years means a more efficient way to repair and replace pipes. Better yet, it also means less disturbance.
Vertical Pipe Repair knows that vertical pipes are not only difficult but are frustrating for building superintendents to deal with. Traditional pipe repair methods are noisy, disturb tenants, and are expensive. At Vertical Pipe Repair, there is no reason for superintendents to stress about pipe repair. They are experts in repairing pipes with the least amount of disturbance to businesses.
Some of the hardest places to repair pipes are hotels, hospitals, schools, public buildings, and high-rises. When it comes to repairing pipes in these places, one of the most crucial aspects is to not stop the flow of traffic for that business. These are some of the busiest places and causing any sort of hiccup can often cause problems for the business. Vertical Pipe Repair makes sure that minimal disturbance is done in order to fix businesses pipes. They use cured-in-place piping (CIPP) to repair pipes with no mess and fuss.
CIPP is a type of pipe restoration process for damaged pipelines. This process involves using a liner tube and resin to repair pipes. Once the liner tube and resin are in place, the curing process begins which provides a tight fit against the existing pipe. CIPP only requires a small entrance to repair the damaged pipeline, unlike traditional pipe repair methods that require a large entrance.
Another pipe restoration service that Vertical Pipe Repair provides is pipe bursting. Pipe bursting is a trenchless pipe repair method that destroys the old pipe entirely. It works by using the power of a winch. First, a cable runs through the pipe that is being replaced. Next, the pipe bursting head is dragged through the pipe, breaking apart the old pipe as it passes through. While the pipe bursting head is destroying the old pipe, a semi-flexible fresh pipe is being dragged along behind. After the entire old pipe has been destroyed, the ends of the new pipe are then attached.
Along with CIPP and pipe bursting pipe restoration, Vertical Pipe Repair offers video inspections, sewer cleaning, and manhole rehabilitation. All of these services are meant to do one thing: make pipeline repair easy. Vertical Pipe Repair's goal is to take away the burden of pipe repair. When it comes to pipe repair, Vertical Pipe Repair is the place to go. Whether you need to request a quote or just simply ask a question about pipe repair contact the experts at Vertical Pipe Repair at 888-468-7668.
Contact
Vertical Pipe Repair
Suite F
TX 75126 Forney
United States
Phone:
+1 214 697-8172
Internet:
To website