Vermeer Corporation Introduces New Line of High-capacity, Truck-mounted Vacuum Excavators
Company to offer product line through minority ownership and distribution partnership with Vacuum X-Traction Products Inc.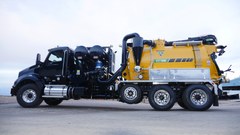 Vermeer Corporation announced it has purchased a minority equity investment in and signed a distribution agreement with Vacuum X-Traction Products Inc. (VXP). Through the agreement, VXP will supply a series of Vermeer-branded, high-capacity, truck-mounted vacuum excavators to be sold exclusively through Vermeer industrial dealers.
The first of these products, the VXT500 Vacuum Excavator, was introduced during the 2020 WWETT Show in Indianapolis on February 18.
The VXT500 is an eight-inch vac with an eight-yard spoil tank capacity. It is ideal for utility applications where a higher capacity machine with a smaller footprint is desired. The VXT500 joins a family of proven VXP-manufactured vacs featuring vacuum blowers that deliver 5,000-6,400 cubic feet per minute and spoil tank capacities ranging up to 16 yards. In addition, VXP has built and will offer a vacuum excavation truck equipped with a pressurized detachable box, and a truck with an extendable long-reaching boom for specialty applications.
This new lineup and strategic partnership with VXP are the next step in Vermeer's commitment to offer the widest range of innovative and specialized vacuum excavation solutions across industries where soft-dig technology is in demand. Vermeer created a leading powerhouse for vacuum excavation solutions for the underground utility markets in 2018 after bringing together the McLaughlin and Vac-Tron brands.
Adding a high-capacity product offering means Vermeer will have one focused product team working together with its dealers to provide one of the most comprehensive lineups of vac solutions on the market.
"Building on our strong Vermeer vac lineup and our recently introduced XR2 vacuum excavator, this VXP partnership will help us offer an even broader range of equipment for our customers to consider depending upon their unique jobsite needs," said Doug Hundt, president of Vermeer Industrial Solutions. "From utility, to oil and gas, to industrial plant and environmental clean-up applications, these VXP products are proven to meet the specific demands of customers looking for high-capacity vac solutions that will improve their productivity."
Based in Fort Morgan, Colorado, VXP was founded in 2014 by Gary Harms and Juan Mota, long-time innovators of vacuum excavation equipment. They will continue as majority shareholders and product development leaders through the new partnership with Vermeer. Their expertise and experience, combined with the product innovation Vermeer was founded on, will help drive the continued advancement of soft dig technology in the high-capacity arena.
"The needs for soft dig equipment are ever-changing with customers requiring a wide variety of products on a wide variety of jobsites. We are excited to partner with Vermeer and its dealers who are well equipped to offer and support our range of high-capacity solutions designed to help customers work more efficiently and cost-effectively," said Harms.
VXP will begin supplying Vermeer machines to Vermeer dealers in mid-2020 with a focus first in North America, and later expanding into other regions of the world where large truck-mounted vacs are in high demand.
About Vermeer Corporation
Vermeer delivers a real impact in a progressing world through the manufacture of high-quality agricultural, underground construction, surface mining, tree care and environmental equipment. With a reputation for durability and reliability, that equipment is backed by localized customer service and support provided by independent dealers around the world.