Veolia Water selected by Thames Water to upgrade its infrastructure
Thames Water, UK's largest water and wastewater services company, has selected a joint venture made up of Veolia Water, Costain and Atkins to deliver a significant proportion of its program of essential upgrades to water and wastewater networks and treatment facilities across London and the Thames Valley. The amount of work for Veolia Water could be worth as much as £450 million (€530 million) for the period 2015 to 2020.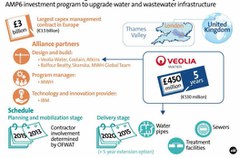 To implement its infrastructure upgrade program, Thames Water has formed an alliance with four partners, two of which are joint ventures—including that of Veolia Water, Costain and Atkins—to deliver a program of essential works, which includes the design and construction of water pipes, sewers and treatment facilities. The contract, represents an investment of £3 billion (€3.5 billion) and is the largest capex management contract in the water sector in Europe.
Following an initial planning and mobilisation stage from 2013-2015 with the joint venture partners, the upgrade program will begin in 2015 and last five years, with the option of an extension for a further five years.
Veolia's expertise and proven technical and operational capabilities enable it to take a key role in this essential capital delivery program and meet the high standards that Thames Water demands for its customers.