US Pipelining, LLC Completes U.S Military Infrastructure Cured-In-Place-Pipe (CIPP) Pipe Lining Project
One of Nation's Most Distinguished Military Landmarks Receives Benefits from Trenchless CIPP Rehabilitation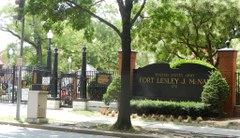 US Pipelining, LLC., an emerging leader in Cured-In-Place-Pipelining solutions (CIPP), announced today the completion of a military project which included cured-in-place-pipe rehabilitation at the Fort Lesley J. McNair Army Post in Washington, DC. Fort McNair, a part of the Joint Base Myer-Henderson Hall, is the headquarters of the Army's Military District of Washington and home of the National Defense University, as well as the official residence of the US Army's vice chief of staff.
The CIPP rehabilitation involving a large diameter storm culvert running beneath the military facility and draining to the Potomac River was part of a larger infrastructure project directed by the U.S Army Corp of Engineers (USACE) and ACS Construction (formerly Akima Construction Services).
"This was a tidal line which means it was sensitive to the tidal flows of the Potomac River" states Jeremy Bowman, President, US Pipelining. "As such, special planning and logistics were required to isolate the 48" diameter line. Working with the team at ACS, the dewatering and construction phases were successfully completed without issue," said Bowman.
A leader in Cured-In-Place-Pipe (CIPP) technologies for industrial, commercial and municipal applications, US Pipelining's military and government portfolio includes projects for The Smithsonian, Fort Knox, NASA, McGuire AFB, Lakehurst Naval Air Station, National Park Services, and the Naval Air Station Patuxent River.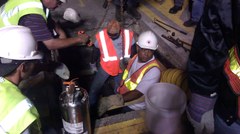 "Cured-In-Place-Pipe lining has become a widely used and accepted technology globally as a low-cost alternative to traditional trench and replace methods, "said Bowman. "Industry can either close down operations, interrupt traffic flow to dig and replace failing infrastructure or, option a non-invasive rehabilitation process which rehabilitates the failed pipe from the inside out without the need for excavation. Companies and municipalities worldwide are now opting for a faster, more cost-effective means of rehabilitation. That is our cured-in-place (CIPP) technology."
Since entering the pipe rehabilitation industry 25 years ago, US Pipelining has gained recognition for their ability to offer highly specialized rehabilitation solutions to a vast array of clients including global fortune 500 companies, high-rise residential and commercial buildings and government agencies. "US Pipelining is one of a handful of companies globally who provide CIPP technology for pipes ranging in diameter from 4 inches to 120 inches," states Bowman. "There are very few conditions we have not seen or reconciled."
About Cured-In-Place technology: Cured-In-Place Pipe technology (CIPP) is one of several "No-Dig" trenchless rehabilitation methods used to "non-invasively" repair existing pipelines. CIPP is a joint-less, seamless, pipe-within-a-pipe with the capability to structurally rehabilitate pipes ranging in diameter from 4"–120". With a design life of 50 years CIPP is one of the most widely used rehabilitation methods and has application in water, sewer, gas, and chemical pipelines.