US Pipelining, LLC Completes Major Military CIPP Pipe Lining Rehabilitation Project
US Pipelining, LLC., an emerging leader in Cured-In-Place- Pipelining solutions (CIPP), announced the completion of a major military project which included the cured-in-place-pipe rehabilitation of nearly one thousand (1,000') linear feet of ten foot diameter (10') storm water piping located beneath the airfield apron of the McGuire Air Force Base in Burlington, NJ. The over-thehole installation of 10' diameter CIPP liner is among the largest to have been successfully completed anywhere.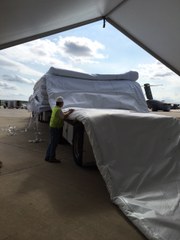 Requiring more than a year of planning, sourcing, and logistics, the project involved support from the nation's premier suppliers to the industry. "Working with our resin supplier, AOC, and our liner manufacturer, Manufactured Technologies Corporation (MTC), we were able to achieve something that, to the best of our knowledge, has never been attempted," states Gary Horwedel, General Manager of US Pipelining, who has been involved in infrastructure rehabilitation and repair using trenchless technologies for over 25 years.
"This project involved infrastructure running beneath the airfield of an active Air Force base. The pipes were twentytwo feet below grade and measured 121" inches around. The installation took place on the airfield, over-thehole, and with military transport planes buzzing at our backs," says Horwedel. "This was an incredible achievement."
"As projects go, this was one of the more challenging with which we've been involved," states Bill Moore, AOC Product Leader-CIPP Resins. "Our team was engaged from day one as we worked through the selection and formulation of the resin in order to meet both environmental and engineering specifications. The sheer size of the liners being installed required six tankers carrying over 240,000 pounds of resin to be transported to the Base from our plant in Canada. The logistics and delivery of material was a critical component," said Moore.
"At 121 inches in diameter the liners were among the largest our facilities have manufactured," states Mark Wetzel, Senior Director, MTC. "Our design and manufacturing staff worked around the clock with the team at Us Pipelining to ensure the liner materials and manufacturing specifications were met. This was a milestone for all involved."
Since entering the pipe rehabilitation industry 25 years ago, US Pipelining LLC. has gained recognition for their ability to offer highly specialized rehabilitation solutions to a vast array of clients including global Fortune 500 Companies, high-rise residential and commercial buildings and government agencies worldwide. A leader in CIPP trenchless technologies, US Pipelining continues to grow their government agencies portfolio which includes the US Military, NASA, Fort Knox, Government of Mexico, Cayman Islands and numerous agencies throughout North America.
Contact
US Pipelining LLC.
1100 Wood Ln
Langhorne, Pennsylvania
United States
Phone:
+1 215-702-9100
Internet:
To website