Uruguay to improve Montevideo drainage infrastructure with IDB support
Loan for $20.5 million will directly benefit 4,500 people in three critical neighborhoods and in adjacent areas affected by floods.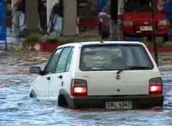 The Inter-American Development Bank (IDB) approved a loan for $20.5 million to finance the improvement of
urban drainage infrastructure
in Uruguay's capital of Montevideo. The project will benefit some 4,500 people as well as protect adjacent areas from environmental degradation and urban flooding caused by wastewater and storm water.
The project aims to minimize impacts caused by the lack or inadequacy of urban drainage, mainly in the upper basin of the Arroyo Seco (Krüger Barrio), the upper basin of the Arroyo Quitacalzones (Jacinto Vera Barrio) and the Cañada Peabody basin (Barrio Lezica) in the Uruguayan capital. These neighborhoods are periodically affected by floods. In addition, water and sanitation works will be funded in the Cerro Industrial Technology Park.
"Prioritizing individual projects will make it possible to increase the capacity of existing infrastructure and extend storm sewer service to urban areas heavily impacted by the floods," said Sergio Campos, IDB project team leader.
The project will consist of constructing storm water drainage works, including flood buffer ponds, conduits to increase the capacity of spillways to drain excess water, and complementary structures.
The neighborhoods where the works will be carried out were prioritized according to frequency of flooding as well as degree of impact on residents, houses, and streets.
The operation will also finance the installation and equipping of 12 hydro-meteorological stations to strengthen the city's rain gauge network.The stations will provide information useful in the design of future works and the detection of changes in rainfall patterns that could be associated with the effects of climate change.
The IDB loan for $20.5 million was extended for a term of 25 years with a four-year grace period and a variable interest rate based on LIBOR. Local counterpart financing totals $10 million.
Contact
Inter-American Development Bank
Sergio Campos
1300 New York Avenue
20577 Washington, D.C.
United States
Phone:
(+1) 202-623-1000
Fax:
(+1) 202-623-3096
E-Mail:
scampos@iadb.org
Internet:
To website