UNITRACC goes INTERNATIONAL. "Official Start" at the 2006 No-Dig Show in Nashville (USA).
The North American Society of Trenchless Technology (NASTT) presented UNITRACC, the repeatedly awarded, webbased information-, learning- and working-platform for sewer and pipeline construction as "No. 1 Platform for Information Education Business".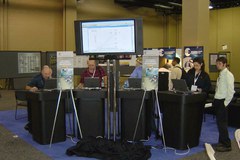 NASTT's attention was drawn to UNITRACC last fall during the 23
rd
international NO-DIG conference in Rotterdam. Here UNITRACC received the No-Dig Award, awarded by the International Society for Trenchless Technology (ISTT), for superior projects in the area sewage and pipeline construction in the category "Scientific Research and further Education".
Fascinated by the extensive potential of UNITRACC the NASTT representatives contacted S&P and discussed the cooperation possibilities. A close cooperation evolved from this in the context of the internationalization of the platform, which was presented to an international specialist audience for the first time in Nashville.
During the whole duration (23-31 March 2006) interested visitors could get a detailed impression of UNITRACC and explore the various trenchless technologies. The extensive information- and teaching-services on the platform were introduced and presented to the participants at specially prepared NASTT terminals in the exhibition hall. A special "Thank you" for the impressive commitment presenting UNITRACC in Nashville is directed to the complete Program Committee of NASTT, especially Mark Bruce (Can Clay Corp.) Chairman of the NASTT, Joanne Hughes, (Raven Lining Systems) and Mark Walbaum (Miller Pipeline Corp.).
The event in Nashville was the "official start" for the introduction to the international market. In order to be able to give consideration to the growing importance of UNITRACC within the company Prof. Dr.-Ing. Stein & Partner GmbH, an independent operating company with the name "Knowledge Factory" was founded. Robert Stein is the Managing Director of this company.
The international platform offers, just like the German platform, valuable, multimedia-based professional information in the areas E-JOURNAL, MARKETPLACE, INFORMATION, LEARNING and WORKING, e.g. news and professional articles, technical books, operation instructions, construction site documentations and practical tools. Online-courses for teachers and learners, consisting of presentations, lecture notes, exercises and virtual construction sites provide the basis for the Online-academy.
The exhibition participation impressively showed the meaning of UNITRACC's objectives concerning further education and training and furthermore the unique character of the didactic approach. The enthusiastic statements of the visitors underline this conclusion.
Contact
Prof. Dr.-Ing. Stein & Partner GmbH
44801 Bochum
Phone:
+49 234 51 67 0
Fax:
+49 234 51 67 109
E-Mail:
office@stein.de
Internet:
To website