UNESCO makes the case for water diplomacy
At the launch of the first UN Water Talks UNESCO Director-General Irina Bokova called for a renewed commitment to water diplomacy as "an essential tool of 'soft power' for a more peaceful world".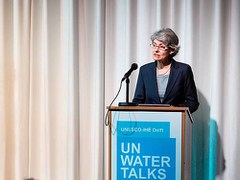 "We need urgently a new commitment to water diplomacy. We need new forms of water diplomacy -- to integrate multiple perspectives and resolve problems in ways that are informed by science and technology and that favour intercultural dialogue," she said addressing the audience that consisted of young water professionals, many from developing countries.
The Director-General reflected on the role of the United Nations and UNESCO in mediation and conflict negotiation and, specifically, on the current state of water diplomacy. She highlighted that rich variety of UNESCO's toolbox in water diplomacy – including the UNESCO International Hydrological Programme, the UN World Water Assessment Programme led and hosted by UNESCO, the UNESCO-IHE Institute for Water Education, and the numerous water-related centres operating under the auspices of UNESCO in all regions of the world.
In the discussion that followed her intervention, the Director-General pointed out that UNESCO will be the lead agency for the preparation and celebrations of the UN 2013 International Year of Water Cooperation as well as for the 2013 World Water Day. The International Year of Water Cooperation will seek to raise awareness about the potential for increased cooperation. It will highlight the history of successful water cooperation initiatives and identify emerging and pressing issues in water education, water diplomacy, transboundary water management, financing cooperation, and national and international legal frameworks.
The Director-General expressed support for the initiative of the Dutch Government, which is considering the establishment of a water diplomacy facility in the city of Delft. "UNESCO would be delighted to contribute to this initiative and cooperate with it", she said. "The vicinity of UNESCO-IHE could offer a good place for the materialization of such an endeavor".
Prior to attending the UN Water Talks, the Director-General visited the UNESCO-IHE premises and met with the Institute Rectorate.
In the evening, the Director-General was the guest of honor for the 5th Water Dinner of the Delftand Water Board. The four previous Water Dinners led to concrete initiatives – including the initiative for the UN Water Talks. The discussion this year considered how the UNESCO-IHE and the envisaged UN Water Center in Delft could help the Dutch parties to strengthen their linkages to the international water scene. The discussion highlighted once again the city of Delft and UNESCO-IHE as world leaders for water expertise.