Ultrasonic Sewer Flow Monitor Specialist Attains International Quality Standard
Detectronic, the sewer flow survey instrumentation specialist, has achieved ISO9001:2008 accreditation from the internationally recognised Sira Certification Service.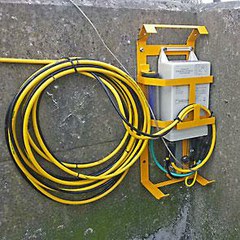 The approval is for the company's quality management systems and covers every aspect of manufacture, marketing, hire and maintenance of ultrasonic velocity-area flow monitors and systems. The approval also acknowledges the Detectronic equipment as intrinsically safe when used in the potentially hazardous atmospheres in sewerage and drainage networks where volatile vapours and liquids may be present.
"The Multi Sensor Flow Monitor (MSFM) is the core technology in our range," explained managing director Steve Woods. "We take great care in their design, manufacture and testing. This recognition of our quality management systems by a leading independent certification body gives further reassurance for our customers. It is also encouraging for our staff, recognising the consistently high quality of their workmanship."
Used in both permanent sewer network management and temporary flow surveys to measure network performance over normal and extreme weather conditions, the Detectronic equipment is designed to perform reliably in high humidity and over a range of ambient temperatures. The MSFM is the only UK manufactured flow monitor that offers a fully integrated daily data upload facility via the GPRS network and a rechargeable battery on the main unit that is able to run for ten months before recharge, when logging at five minute intervals.
Flow data information may be uploaded to a client's data centre or to Detectronic's data centre where professional analysts, with many years water industry experience, can interpret the data and provide recommendations for investigation and long term network management improvements.
Approval from Sira extends to April 2016. The company will also be subject to further audits during this period. The approval is in addition to the current intrinsically safe certification previously awarded to Detectronic and is valid world-wide.
Contact
Detectronic
Steve Woods
1 Turner Road, Lomeshaye Industrial Estate
BB9 7DR Nelson, Lancashire
United Kingdom
Internet:
To website