ULC Robotics, Inc. Wins Game Changer Award for CISBOT Robotic System
ULC Robotics, Inc. was recognized by Robotics Business Review as a Game Changer Award winner in the Construction, Mining and Energy category for the company's innovative CISBOT (Cast Iron Joint Sealing Robot) Robotic System. The award recognizes CISBOTfor its ability to efficiently rehabilitate large diameter cast iron gas mains with minimal excavation, minimal disruption to the public and without the need to disrupt gas service to local residents and businesses.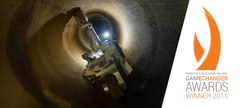 ULC is honored and excited to be recognized as one of Robotics Business Review's Game Changer Award winners," said Gregory Penza, president and CEO, ULC Robotics, Inc. "With the support of our customers we have been able to make CISBOT a successful commercial operation and we will continue to develop game changing robotic systems to aid in solving difficult operational and environmental challenges facing the natural gas and energy industries."
CISBOT operates underground through one small excavation to repair and reinforce joints in cast iron pipelines. CISBOT is revolutionizing the way gas utilities in the US and UK are maintaining these vital assets. The robotic system's small site footprint and ability to work with virtually no excavation nearly eliminates the public disruption often associated with traditional pipeline repair or replacement. Residential and business gas customers appreciate CISBOT because gas service remains turned on during the procedure. CISBOT was chosen as a Game Changer by a panel consisting of Robotics Business Review and Robotics Trends editors as well as by distinguished experts from the International Journal of Advanced Robotics Systems (IJARS). Products were judged based on standout attributes, design, functionality, impact and overall benefit to
the robotics industry.
To view CISBOT's Game Changer Award submission and see all Game Changer Award winners please visit http://www.roboticsbusinessreview.com
Contact
ULC Robotics
Ellen Lattari
88 Arkay Drive
11788 Hauppauge, NY
United States
Phone:
+1 (0)631 667-9200
Internet:
To website