UK Companies Explore Water Opportunities in Oman
A delegation of 10 UK companies that attended the Oman Energy & Water Conference have heralded the event a success. The trade visit, which took place in Muscat in April, was organised by Intec Export Intelligence and British Water and participants were eligible for grants from the UK Government Department of International Trade (DIT).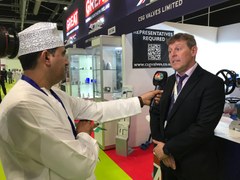 Oman is expanding and upgrading the country's water and wastewater infrastructure with projected capital expenditure of US$6.5 billion on clean water between 2015-2040 and US$15.58 billion on wastewater from 2018 to 2045.
Demand for water is being driven by population growth and tourism and is expected to rise at the rate of 7% per annum through to 2021. The National Water Sector Master Plan includes expansion of the water grid with new networks serving greenfield areas along with renewal of legacy infrastructure.
Along with a number of desalination projects, a resource restructuring programme could see advanced wastewater treatment being used to provide supplementary water supplies along with higher sanitation coverage
The Wastewater Masterplan seeks public-private partnerships for building plants and is banking on revenues streams from the sale of treated water and fertilisers. By 2020 the government aims to connect 80% of Muscat residents to the sewerage network, up from the current 30 per cent.
Investment and opportunities
Karolina Perét, International Manager, at British Water said: "British Water members are finding that Oman is a great place to explore opportunities and the substantial investment going into water and wastewater infrastructure presents significant opportunities for a wide range of companies. Oman is keen to learn from global expertise and equipment for wastewater treatment and reuse, desalination, irrigation, water quality and metering which are all in demand."
Guy Rogers of Intec Export Intelligence said, "Oman is the fastest growing export market for UK products and provides many opportunities for British companies in the water sector. Participants at this year's UK Pavilion reported exceptional interest in their products and services and business leads from the event are already turning into valuable contracts.
"Oman is a wealthy, secure country and puts great value on its relationship with the UK. We look forward to building on this success in future years and hope even more companies from British Water join us for the upcoming event in Vietnam."
Distributors
Dave Warner, managing director, CSG Valves stated, "This is the third time we've made the trip to Oman with British Water and I'm delighted to say we've already had several orders come out of it. We're also in talks with six potential distributors that we identified at the exhibition.
"Joining the UK Pavilion has given us a better understanding of the water market in Oman and the way it works and we've also made very useful connections into sectors like oil & gas and petrochemicals."
John Skipper, director, SPE Energy also commented, "I must extend my thanks to British Water and Intec Export Intelligence for the tremendous support we received at the exhibition in Oman this year. Through the distributorship SPE Energy set up with Oman National Engineering & Investment Company (ONEIC), we now have direct access to this busy market. I will certainly be taking up similar trading opportunities in the future.
Closer links
Ten companies secured grants from the UK Department for International Trade (DIT) to support their attendance and build closer links with the water industry in Oman. According to DIT, Oman needs major investment in infrastructure over the next ten years and is keen to attract private investment alongside government funds.
The event was held in the capital, Muscat, from 22-24 April 2019. To find out more about the companies that took part, download the
brochure
here.
About British Water 
British Water is the lead representative and business development organisation for the UK water industry supply chain.
Contact
British Water
Karolina Perét
International Manager
Unit V103, Vox Studios, 1-45 Durham St
SE11 5JH London
United Kingdom
Phone:
+44 (0)20 3567 0950
E-Mail:
karolina.peret@britishwater.co.uk
Internet:
To website