U Mole introduces TT's 'new' GRUNDOMAT N to their Product Portfolio
TT-UK has recently been working in co-operation with U Mole to supply them with soil displacement hammers. U Mole has always endeavoured to offer their customers the very best products, tools and technical solutions for the Trenchless Technology Industry, tools which combine efficiency, performance and innovation and the latest addition to their portfolio, the Grundomat N is no exception.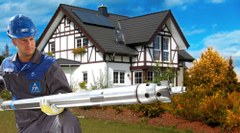 The
GRUNDOMAT N
has a crowned head, triple gear control stud, with the frequency and speed of the striking impact being chosen via two forward gears. This means that boring speeds can be altered to adapt to various soil conditions and provides smooth and constant propulsion; particularly useful at the start of the bore process and during alignment. In fact it can be used in applications which other impact moles quite frankly would struggle with. With GRUNDOMAT N underground boring works are not only easier; they are safer, quicker and so more cost effective. Due to the GRUNDOMAT N's stability in all soil types, jobs are completed in record time, so disruption to the public is kept to a minimum, impact on the environment is little and noise and dust emissions are almost non-existent.
With a simple quarter turn of the air hose, retrieval of the GRUNDOMAT N is ensured, even when up against impenetrable soil conditions. The Sizes range from 40 to 180mm diameter, with the length of the bore being relative to the diameter of the machine as well as the pipe/cable to be installed and prevailing soil conditions. The small diameter GRUNDOMAT N's perform well within the requirements for both commercial and domestic utility service connections and are used over a wide variety of applications; with bore lengths in excess of 30m. The range of larger  GRUNDOMAT N's can install mains carrying pipes and cables, which includes the installation, replacement or repair & maintenance of Water, Gas and Sewer connections etc., as well as mini piling, and embankment tie rodding.
Ian Mathews, General Manager at U Mole said "At U Mole we strive to support any new products that offer our customers innovation, improved efficiency or simply ease of use and with the GRUNDOMAT N, we believe we have a product that offers all of these benefits. This mole quite simply goes where others can't, it is sure to be a game changer for any serious moling team".
Consultations between TT-UK and U Mole also included on-site training sessions for U Mole Technical and Office Staff on the GRUNDOMAT N as well as many other Trenchless products manufactured by TT which U Mole are also looking at purchasing from TT-UK. This training took place at TT-UK's premises in Bedford where they have a custom built all weather training facility, dedicated to inform, educate and empower users of their quality Trenchless Technology Equipment. Training provided by TT-UK is (EUSR) accredited.
Don Wilkinson, Sales Manager for TT-UK said "It is a pleasure to be working with and supplying U Mole with the 'new' GRUNDOMAT N, we are confident that this product will provide U Mole with everything that they are looking for and more from a soil displacement hammer and by supplying this product, we hope it will lead to a long and successful working relationship between TT-UK and U Mole.
Contact
TT-UK
Donna Constable
10 Windsor Road
MK42 9SU Bedford
United Kingdom
Phone:
+44 (0)1234 / 342566
Fax:
+44 (0)1234 / 352184
E-Mail:
marketing@tt-uk.com
Internet:
To website