Tunnelling machine breaks through at Kangaroo point
The first of two massive tunnel boring machines digging Brisbane's Clem Jones Tunnel (CLEM7) has reached another major milestone breaking through into an excavated section of tunnel at Kangaroo Point on 7th December 2008.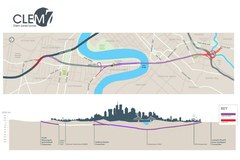 Commencing at Bowen Hills on the north side of the Brisbane River, the 4,000-tonne tunnelling machine (named Florence) has completed 2.8 kilometres of tunnel on its journey to Kangaroo Point. "Today's milestone is truly spectacular when you consider that this time last year Florence was in the early stages of being assembled on site at Bowen Hills," said RiverCity Motorway CEO Flan Cleary. "Commencing at the end of March this year, it has taken only 9 months for the construction team to tunnel from Bowen Hills to Kangaroo Point. That is a fantastic achievement," he said.
The journey from Bowen Hills to Kangaroo Point has taken Florence below the RNA Showgrounds, dozens of busy city streets, office blocks and apartments, the Brunswick Railway Station, Brunswick Street Mall, Kemp Place Fire Station and the Story Bridge. Florence has successfully tunnelled 60 metres below the Brisbane River. She has also travelled below several of the City's famous watering holes, including the Jubilee Hotel, the Empire Hotel and most recently the Story Bridge Hotel. Florence will now complete the remaining 1.5 kilometres of tunnel to Woolloongabba.
The second tunnel boring machine (Matilda) has completed 2.5 kilometres of tunnel and is expected to break through at Kangaroo Point in early 2009. In total, each tunnel boring machine will complete 4.3 kilometres of tunnel. Both machines remain on schedule to complete their journey to Woolloongabba by mid 2009. Mr Cleary said the tunnel break through was a tremendous way to celebrate 12 months of exceptional construction progress on the CLEM7.
Key construction highlights include:
more than 2.5 million tonnes of rock has been excavated (70 percent of total rock);
80 percent of the project's 38,000 tunnel lining segments have been manufactured;
all 3 kilometres of roadheader tunnelling is substantially complete; and
all 18 bridges at either end of the tunnel are substantially complete.
LBB JV Project Director Adam Hudson echoed the praise for his team. "The team continue to make excellent progress across all CLEM7 worksites and it's because of this collective effort that we are now in the home straight and focused on the finish line," he said. "We remain on track to complete all tunnel excavation in the first half of 2009. Our attention will then turn to installing ventilation fans, traffic management devices and tunnel safety systems. "We will also begin demobilising many of our worksites across the city as major buildings and surface works are completed."