Tunneling for Kane'ohe-Kailua gravity sewer project complete - boring machine completes three mile journey
Three miles of tunneling for the City and County of Honolulu's largest sewer project, the Kane'ohe-Kailua gravity sewer tunnel is complete. The route linking Kailua Regional Wastewater Treatment Plant (KWWTP) to the Kane'ohe Wastewater Pre-treatment Facility (KWWPTF) took 13 months to bore through.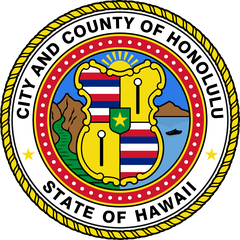 This milestone for the first phase of the Kane'ohe-Kailua gravity sewer tunnel, called a "hole through," represents the near-completion of the 13-foot diameter, roughly 16,000-foot long tunnel bored at depths of up to 400 feet. "Despite this being the largest sewer project in state history, this critical infrastructure project has had very little impact on our residents while ensuring our public and environmental health and safety for generations to come," said Mayor Kirk Caldwell. "In addition to using gravity rather than energy, this project provides storage for wet-weather flows, preventing spills when wastewater flows exceed the system's existing capacity."
Southland Mole JV completed the 87-foot diameter shaft and sound retention wall at KRWWTP in January, 2015. The tunnel boring machine (TBM) was lowered approximately 77 feet below ground into the Kailua shaft and began boring a 13-foot diameter tunnel in April, 2015. The tunnel hit the halfway point from Kailua to Kane'ohe in December 2015. Excavation from KWWPTF began August, 2015 in anticipation of the hole-through. The TBM will be dismantled and removed from the Kaneohe shaft, approximately 39 feet below ground level, at the end of June, 2016. The final activity of phase one will be to install and grout a pipeline 10-feet in diameter throughout the tunnel to transport wastewater flows. Pipe installation is expected to commence in August/September 2016.
Phase two of the project is installation of a tunnel influent pump station (TIPS) in the Kailua shaft. TIPS will receive and pump the tunnel flows up to the KWWPTF. The third and final phase of the project is construction of a tunnel influent facility (TIF) at the KWWPTF. Upon completion of all phases, the existing force main that transports wastewater from Kane'ohe to Kailua will be decommissioned and the flows are expected to be redirected to the new gravity sewer tunnel in 2018.
Contact
Department of Customer Services
550 South King Street
96813 Honolulu
United States
Internet:
To website