Tunnel crossing begins for Frome Valley sewer pipe
Work to build a new sewer pipe beneath the M4 motorway has reached an important milestone, with tunnel boring underway at Three Brooks Local Nature Reserve.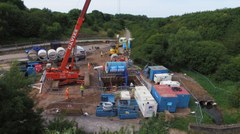 Part of the £15 million Frome Valley relief sewer scheme, we're tunnelling beneath the motorway from the nature reserve in Bradley Stoke, South Gloucestershire. The sewer will provide additional capacity for new developments in the area, diverting wastewater flows from South Gloucestershire to Bristol sewage treatment works in Avonmouth.
Project manager Mike Bryant said: "Work is progressing well, with the M4 tunnel crossing works getting underway last week and due to last for approximately four months."
The first sections of the Frome Valley relief sewer were laid in areas of North Bristol and Yate during the 1980s and 1990s. We're now constructing a 5km long, 1.8m diameter pipe that will run from Iron Acton, north of Frampton Cotterell, and then westwards to Bradley Stoke.
Mr Bryant said: "We are currently sinking other shafts on the job, and we will be mobilising additional tunnel boring machines around the Winterbourne and Iron Acton areas in the coming months. Open excavation in rock around Iron Acton is proving to be tough but we are achieving the estimated outputs per day."
"In September we will be crossing the River Frome, which has all been agreed with the Environment Agency and conservation groups." We're taking painstaking care to protect the natural habitats and environment of wildlife at the nature reserve, with a temporary footpath in place and access maintained at all times.