Tunnel Boring Machine Breaks World Record
A Tunnel Boring Machine (TBM) called 'Blanche' set a new world record when it reached 1496.48 metres - the longest ever stretch of pipe laid by the Direct Pipe® tunnelling methodology. The TBM is located at Watercare's Army Bay Wastewater Treatment Plant, Whangaparaoa.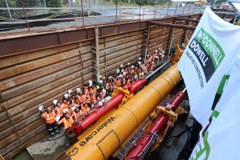 On the afternoon of Friday 13 July, the McConnell Dowell project team were monitoring progress with building excitement as the TBM approached 1495 m, the previous record set in Texas in 2017.
McConnell Dowell Project Manager Chris Powell explained that the record was attained "by achieving the right balance between pipe strength, thrust and the operation of the 34 tonne TBM to maximise its capabilities."
"This is the first time the Direct Pipe® system has been used in New Zealand. As a consequence we weren't constrained by traditional applications and were able to used the Direct Pipe system it in ways not explored before. We set some pretty high expectations, we learn't much and achieved a real global step-change in how this new tunnelling technology can be used."
The unique benefits of Herrenknect's Direct Pipe® system includes the ability to install long pipelines in a single drive, safely with speed, all of which reduce environmental impacts and make it ideal for working in small or sensitive spaces such as the Shakespear Regional Park.
Ben Hayes, Pipeline Expert and Area Sales Manager at Herrenknecht Asia congratulated McConnell Dowell on using the method to achieve a world record.
"The hands-on site team have been particularly impressive in their ability to adapt and overcome hurdles encountered - along with the support of Herrenknecht site personnel with their considerable trenchless technology expertise - to ensure an efficient and safe execution with a technology that was essentially new to them."
Direct Pipe® is a Herrenknecht trademarked tunnel boring machine (TBM) that combines the best of microtunnelling and Horizontal Direct Drilling (HDD) into one machine. In one step, the borehole can be excavated and a prefabricated pipeline installed. The project team have also developed the system so it can achieve drive speeds of up to 30 m a day, which makes it an extremely efficient tunnelling option. Direct Pipe® is generally used in Europe to install pipelines under rivers and other large bodies of water.
The scope of Watercare's $31 million project includes constructing 2.9 km of new gravity-fed wastewater pipeline - two kilometres of onshore pipeline installed using the trenchless Direct Pipe™ system, and 900 m of marine outfall that will run along the seabed. The project also involves upgrading the existing ultraviolet disinfection facility, electrical controls and standby generators as well as building a new pump station.
Construction upgrading Watercare's third largest wastewater treatment plant began in August 2017 and is scheduled for completion in early 2019.
Contact
McConnell Dowell Corporation Limited
Level 3, 109 Burwood Road
Victoria 3122 Hawthorn
Australia
Phone:
+61 3 9816 2400
Fax:
+61 3 9818 3553
E-Mail:
mcdgroup@mcdgroup.com
Internet:
To website