TTC's Dr Tom Iseley Retires From LA Tech
After dedicated service to Louisiana Tech University (LA Tech), trenchless expert Dr Iseley has retired as a professor. In August, a crowd gathered at the Trenchless Technology Center (TTC) to celebrate Dr Iseley's retirement.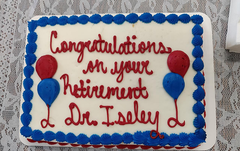 A leader in pipeline and trenchless technology, he has been promoting trenchless technology since 1988 at LA Tech.
Dr Iseley founded the TTC – an industry-university cooperative research facility based at the university – in 1989.
Although Dr Iseley is retiring from the role of professor, he will continue to work at the TTC heading up the speciality schools and programs.
Dr Iseley's expertise in the field is highly sought after and he is a regular contributor to Trenchless International magazine's TTC report, detailing the ongoing programs and initiatives supporting the global industry. TTC greatly appreciates Dr Iseley's decades of hard work and dedication to the trenchless technology industry and will endeavour to carry on his legacy in the years to come.
Contact
Trenchless Technology Center - Louisiana Tech University
1207 Agriculture Dr
LA 71272 Ruston
United States
Phone:
+1 318-257-2000
E-Mail:
communications@latech.edu
Internet:
To website