TTC Demonstration of Drone Pipeline Condition Assessment (PCA)
TTC is partnering with Rimcor, Inc. and the City of Ruston, LA to conduct the first application of utilizing drones for PCA. The demonstration will take place on April 27, 2018 in Ruston Public Works Department Facility at 2:00 p.m.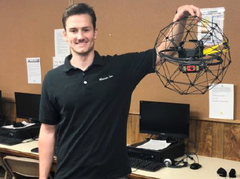 Don't miss this exciting opportunity to see how once again TTC is leading the advancements of the trenchless technology industry. There will be a presentation at the Department of Public Works facility prior to the demonstration to provide the background of the TTC Drone PCA program; and there will be a Q&A session after the demonstration.
TTC will provide complimentary registration for students, faculty and staff at Louisiana Tech University and also contractors, consulting engineers, public utility personnel managers, foremen, and equipment manufacturers.
For more information, please contact Tom Iseley, Ph.D., P.E., Dist. M. ASCE, PWAM CETF Professor, Civil Engineering.
Trenchless Technology Center (TTC) is an industry/university/government research center at Louisiana Tech University. For almost 30 years, TTC has been a global leader for the development of technologies influencing almost every aspect of trenchless construction methods.

Dr. Tom Iseley was the founding director and now serves as the associate director of international operations.
Currently, Dr. Iseley is the instructor for the Entrepreneurship in Construction Course at Louisiana Tech University, a graduate level Civil Engineering (CE) Course to assist CE majors with developing the skills necessary to succeed as an entrepreneur and to accomplish TRIP (transferring research into practice).

Mr. Brice Gillikin is a student in this course. His course project involves developing a business plan to overcome the barriers of entry with introducing drone technology for PCA. He is a licensed drone pilot. He will be the pilot for the demonstration.
Contact
Trenchless Technology Center - Louisiana Tech University
Tom Iseley
600 Dan Reneau Dr
LA 71270 Ruston
United States
Phone:
+1 404 386 5667
E-Mail:
dtiseley@latech.edu
Internet:
To website