TTC Annual Utility Investigation School
Registrations are available for the Trenchless Technology Centre's (TTC) second Annual Utility Investigation School 'Geophysics for subsurface utility engineering professionals', taking place at Louisiana Tech University from 26 February to 2 March 2018.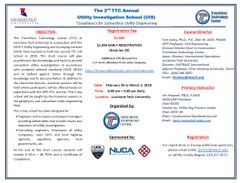 The TTC at Louisiana Tech University, in conjunction with the ASCE Utility Engineering and Surveying Institute, will hold a five-day short course to provide practitioners with the knowledge and tools to provide utility investigation in accordance with accepted national standards (ASCE 38-02).
The course will include classroom lectures and practical sessions where participants can get hands-on experience with utility locating technologies, such as ground penetrating radar.
Field experience is a key focus in this course; participants will learn to setup the equipment, proper surveying techniques and data interpretation.
Data will be downloaded and viewed in the software, including viewing data output and reports, and case studies will be examined.
This course is designed for engineers, surveyors, project managers, utility employees, state Departments of Transportation, local highway agencies, local governments and more.
Registration for the program costs US$1,595, with a 10 per cent discount available when registering three or more attendees from the same company (registrants should contact Fredda Wagner for the discount code).
Click here to register.
If you need assistance or have additional questions, please contact Ms Wagner at fredda@latech.edu or call 318 257 4072.
Contact
Trenchless Technology Center - Louisiana Tech University
Prof. Dr. Tom Iseley
305 Wisteria St
LA 71272 Ruston
United States
Phone:
+1 318 257 2852
Fax:
+1 318 257 2777
E-Mail:
dtiseley@latech.edu
Internet:
To website