TT-UK's new PE pipe coil transporter
TT-UK, the Grundowinch suppliers, add a universal PE Coil Pipe Transporter to their extensive range of Trenchless Technology products. With this strong and highly manoeuvrable trailer, PE pipe coils with pipe diameters of 180mm SDR11 with a lengths of 100m, can be safely transported and uncoiled. If smaller diameter PE pipe coils are used i.e. 63mm to 125mm, longer lengths or even two coils can be transported at the same time.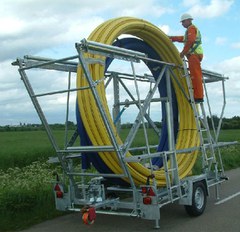 The rear loading of the PE pipe coil is carried out by using a small forklift truck wheel-loader or excavator with the correct lifting and handling capabilities. The pipe coil has just to be lifted to a height of approx. 1m, so that the BRVT 09 can be moved backwards to enable the pipe coil to be easily loaded.
After lowering down the pipe coil on the two adjustable support rollers, it needs to be engaged and secured. A clamp has to be fixed at the start of the pipe to enable it to be pulled into the roller cage and for guiding it below the trailer axle to the rear. The inner end of the coil is secured with a rotating ratchet chain tensioner.
The pipe coil is able to run freely during the uncoiling process; a smooth controlled uncoiling is assured.
The trailer is equipped with a single axle chassis and fixed height tow bar, eye coupling, over-run brake system and a manual handbrake. Excellent towing stability is guaranteed.
The trailer is equipped with the necessary lighting and braking system according to EC regulations. The rear lights are protected against damage. The trailer is supplied fully galvanised for long life and durability and the road worthiness certification is according to EC Regulation.
Movable safety ladders and a non-slip walking platform are situated on each side. The trailer has four prop legs at its extreme corners and a further two hooks at the front to assist with off road secure anchoring of the trailer.
After replacing the fixing clamp with a PE towing eye at the leading edge of the pipe, it can be pulled through the guiding rollers at the front of the trailer, down under the axle. Holders for the guiding rollers are fixed in both sections in the front of the trailer; the rollers can be fixed at the right or the left side. An operator safety harness as well as a hard PVC tool box and wheel chocks is included in the trailer package.
Further information:
TT UK Ltd.
Windsor Road
Bedford MK42 9SU
United Kingdom
Tel: +44 (0)1234 342566
Fax: +44 (0)1234 352184
Email: info@tt-uk.com
Web: www.tt-uk.com
Contact
TT-UK Ltd.
UK-Bedford MK 42 9SU
Phone:
+44 1234.342.566
Fax:
+44 1234.352.184
E-Mail:
info@tt-uk.com
Internet:
To website