TT-UK's all weather training facility
Despite the weather or unseasonable conditions, customer training is able to proceed at TT-UK's bespoke indoor trenchless training facility.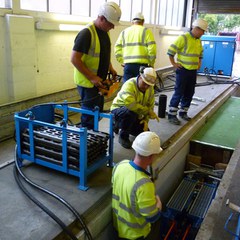 A real live working trench has been constructed so as to assimilate, assess and train trenchless technology equipment operators in the correct and safe use of GRUNDOMAT moles, GRUNDOBURST pipebursters and GRUNDOWINCH pipe and cable puling applications.
Increasingly popular is weekend training when again the all-weather facility comes into its own ensuring that training can take place evening/weekends regardless of the weather. This ensures the workforce is trained in a high quality safe environment and, after training, examination test results are shown to be greatly improved as operators concentration levels are increased in the controlled environment.
TT-UK is the first company to receive the E&U Skill Recognition Learning programme as a service provider for Suction Excavator and Winch operator training. All trainers and assessors are selected for their experience and are suitably qualified to assess in accordance with C&G EU Skills requirements.
Contact
TT-UK Ltd
Tricia Bowes
Windsor Road, Bedford MK42 9SU
United Kingdom
Phone:
01234 342566
Fax:
01234 352184
E-Mail:
training@tt-uk.com
Internet:
To website