TT-UK provides innovative pipe-bursting equipment to Rescue Rod of South Africa
TT-UK has recently supplied Rescue Rod of Johannesburg South Africa with the latest intelligent approach to pipe bursting equipment the GRUNDOBURST400G system with the patented 'QuickLock' Rods.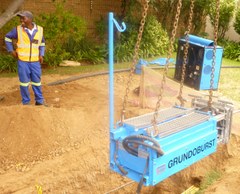 Rescue Rod specialise in drain, sewer and industrial pipeline cleaning services and continue to strengthen their core business by investing in the latest pipe bursting equipment from German manufacturer of Trenchless Technology Equipment TRACTO –TECHNIK,  sistercompany to TT-UK of Bedford, England. 
Rescue Rod provide services from pipe surveying to industrial vacuum for drain, sewer and industrial pipeline cleaning, the GRUNDOBURST pipe bursting equipment was seen as a natural and innovative progression for their ever growing and successful business. By using advanced No-Dig methods to eliminate costly open cut excavations, they are complimenting their already wide range of pipe cleaning and (HDD) Horizontal Directional Drilling GRUNDODRILL pipe installation services throughout South Africa.
Rescue Rod's additional purchase of this latest equipment was decided as a direct result of the company being awarded essential pipe renewal contracts by esteemed client The Johannesburg Water Company.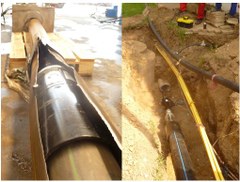 Rescue Rod's investment has been fully supported with comprehensive on-site Training to use the equipment cost effectively and safely. This training was provided in February 2016 by Trenchless Technology experts from TT-UK.
After successfully completing 'live' on-site water main replacements in the area of Concorse Crescent, Lone Hill, additional steel pipe splitting tuition was also provided under controlled environment conditions within the workshop. This was in preparation for future brittle and non- brittle steel pipe renewal projects.  
Stuart Hawkins of Rescue Rod said "Basically we are impressed with the speed of the operation due to the fact that the QuickLock rods are so easy to connect and release and there is no need for additional tools or struggling to loosen threaded rods. The telescopic docking system which enables the pulling of the pipe straight into the pit means there is no need to dig to release the tooling and pipe, so all in all a good, clean and safe operation!"
TT-UK's Roger Atherton added "With these positive results, Rescue Rod continue to look forward to the future as they are able to tackle any problem directly, whilst emphasising and focusing on eco-friendly solutions, with low environmental impact and less disruption to the existing infrastructure and community."
TT-UK wishes continued success to Trevor Quigley, Stuart Hawkins and the Rescue Rod Company.
Contact
TT-UK
10 Windsor Road
MK42 9SU Bedford
United Kingdom
Phone:
+44 (0)1234 342566
Fax:
+44 (0)1234 352184
E-Mail:
info@tt-uk.com
Internet:
To website