TT-UK awarded contract to supply National Grid with Grundomant soil displacement hammers
TT-UK has been supplying National Grid with GRUNDOMAT soil displacement hammers since the mid 1980's. As is official procedure, when the contract to supply was up for renewal in November 2014 National Grid invited TT-UK along with alternative suppliers of impact moles to bid for the prestigious contract.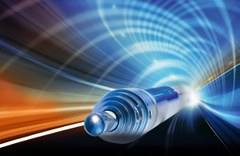 With increasing emphasis on cost and supply of products in the Trenchless sector, it was never going to be an easy bidding process as the market has become so fiercely competitive. The lucrative contract was ultimately awarded to TT-UK in late Spring 2015. After submitting the necessary documentation, several meetings were held, followed by a tender assessment visit at TT-UK's premises by the National Grid Procurement Team.
TT-UK achieved success on evaluations that included; Pricing, Innovation, Technical, Commercial, SHE and Contract Management, accomplishing an overall score of over 80% across all six award categories.
For the last 7 years TT-UK has been part of the Achilles supplier management community (UVDB), a recognised purchasing platform for the utilities industry. TT-UK has continuously achieved compliance to supply their products to some of the major utilities companies and gained an overall score of 82.0% at their latest audit in early July 2015. David Toms – Managing Director of TT-UK said "We are always striving to improve our products, processes and customer service and I am delighted to announce the continuation of our long standing relationship with National Grid, and the agreement to continue to supply the GRUNDOMAT soil displacement hammer for a further three plus years. We are never complacent with winning tenders like this and we worked very hard to achieve this esteemed contract."
The next part of the supply process which has always been part of TT-UK's core values and part of the service they provide, is to ensure that all existing and potential GRUNDOMAT users are fully conversant and up to date with the latest Trenchless Technology innovations. TT-UK also offer (EUSR) accredited operator and maintenance training courses approved by the Energy & Efficiency Independent Assessment Service (EEIAS), set up to support the Government's reform to ensure an effective, efficient and streamlined approach to training and assessment within the sector. With this training TT-UK is offering National Grid the opportunity to maximise the return on their investment with the continued reliable supply and safe use of GRUNDOMAT soil displacement hammers.
Contact
TT-UK
10 Windsor Rd
MK42 9SU Bedford
United Kingdom
Phone:
+44 (0)1234 / 352 184
Fax:
+44 (0)1234 / 342 566
E-Mail:
info@tt-uk.com
Internet:
To website