TT-UK at SED 2009 from May 12 - 14
TT-UK would like to take this opportunity to invite you to the SED exhibition which is being held from 12th May for three days at the Rockingham Performance Park, Near Corby, England.  SED is the UK's National Event for Construction, where visitors from all around the world will have the chance to see our product range first hand and discuss any questions you may have....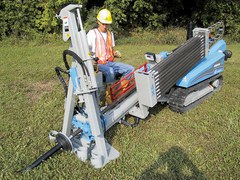 TT-UK will be located on stand number 146, avenue C/P.  At the exhibition you will be able to view a selection of TT products including the new Grundodrill 4X small, compact HDD Rig, Grundomat impact moling hammers, Grundoburst hydraulic pipebursting systems, Grundowinch insertion / sliplining and cable installation winches. Also on show will be our award winning Slip-Fast pipe and cable pushing equipment, Grundoram steel pipe ramming systems, Suction Excavator systems for the safe and very quick exposure / excavation of buried pipes and cables, Pipe and Cable Extractor, GRD Geothermal Radial Drilling System and more.
Contact:
TT UK LTD.
10 Windsor Road
Bedford MK 42 9SU
PH.: +44 (0)1234.342.566
FAX: +44 (0)1234.352.184
E-Mail: info@tt-uk.com
Internet: www.tt-uk.com

Contact
TT UK Ltd.
42 9SU Bedford MK
Phone:
+44 1234.342.566
Fax:
+44 1234.352.184
E-Mail:
info@tt-uk.com
Internet:
To website