TT-UK and SSE are not trailing behind when it comes to safety
TT-UK of Bedford has recently supplied SSE with 27 Cable Drum Trailers; featuring a range of new innovative and bespoke specifications for ease of use and safer operation. The new BKT15 Cable Drum Trailers are the direct result of a joint collaboration between TT-UK and SSE since their first discussions back in 2011.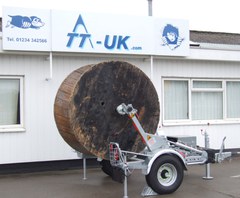 With the emphasis on safer cable drum loading & unloading, improved road towing and cable drum holding abilities, field trials were conducted initially using one single unit; the results of which were very encouraging for both SSE Managers and Cabling staff.
During the first half of 2012 further trials were then carried out in Aberdeen, Inverness, Perth and Arbroath resulting in SSE placing an order with TT-UK for a further 26 units in November 2012. Following a meticulous and thorough approval process, this included inspection by SSE at regular intervals during manufacturing, the approval came in October 2013 for the final units to be delivered.
Delivery of all the units will be complete before the end of 2013, which will be followed directly by TT-UK's Operational Equipment Training Programme which will support SSE's on-going cabling operations.
Roger Atherton, Business Development Manager for TT-UK said "The mutual co-operation between SSE and TT-UK has been fundamental in the design and development process of these new trailers. We are now looking forward to the next phase of supplying these new trailers to SSE's Southern Operations."
Contact
TRACTO-TECHNIK GmbH & Co. KG
Paul-Schmidt-Str. 2
57368 Lennestadt
Germany
E-Mail:
info@tt-uk.com
Internet:
To website