TT-UK and Reef Technology´s partnership further entrenched at No Dig South Africa
In July TT-UK Ltd joined their exclusive sales partner Reef Trenchless Technology SA (Pty) Ltd at No Dig South Africa in Pretoria.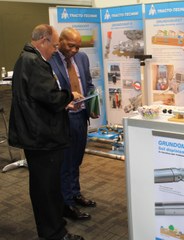 The event was opened by the Executive Mayor of Tshwane – Councillor K D Ramokgopa who visited the TT stand and who fully recognises the benefits of trenchless technologies and personally endorses the trenchless method. As a result, there is fresh interest for Trenchless Technology equipment in South Africa; as in recent years hundreds of kilometres of sewers have been replaced in Tshwane alone using this technology.
As well at the mainstay TT equipment such as the GRUNDOMAT and GRUNDOBURST, one of the main exhibits on the TT-UK/Reef Stand was the GRUNDODRILL 15XP. This HDD drill rig has been specifically designed for the underground installation of water, gas and power lines, the HDD bore method being an economical and ecological alternative to the open trenching method.
TT-UK's Business Development & Export Manager Roger Atherton said:
"In the more dense and urbanised areas of South Africa, Utilities companies have realised the many benefits and have recently been turning towards using Trenchless Technology. Although at the moment much of this technology is situated in Cape Town and the Eastern and Western Capes, the interest for our equipment is definitely there and so signs are good for the future".
Chris Ehlers Managing Director of Reef Trenchless Technologies added:
"Trenchless Technology is really gaining popularity in South Africa now. We had many interested visitors to our stand, with some positive enquiries so we are looking forward to some busy times ahead."
Contact
TT-UK LTD
10 Windsor Road
MK 42 9SU Bedford
United Kingdom
Phone:
+44 1234.342.566
Fax:
+44 1234.352.184
E-Mail:
info@tt-uk.com
Internet:
To website