TT Asia Pacific: Best booth at Trenchless Australasia 2009
TT Asia Pacific has been awarded 'best booth' for their stand at the 8th National ASTT Conference and Exhibition held recently in Melbourne, Australia. Trenchless Australasia 2009 is the largest trenchless event ever held in the Southern Hemisphere. The 2,200 square metre function centre and large balcony was packed with trenchless industry professionals from around the world.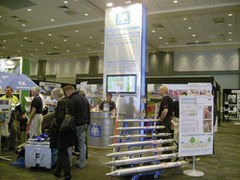 The exhibition opened on Sunday 20 September with a well attended cocktail party and traffic from trade visitors remained high throughout the two-day event. Over 650 delegates, speakers, exhibitors and trade visitors attended the exhibition.
The award for best booth was decided by a jury including a design expert and randomly selected delegates and trade visitors. All exhibitors, totalling more than 60 companies, were automatically included in the judging.
The award for best booth was presented to TT Asia Pacific at the Gala Dinner on 22 September. The dinner was held at Melbourne's premier sporting venue, the Melbourne Cricket Ground (MCG), in the Member's Dining Room.
The TT Asia Pacific booth was an impressive stand, attracting a constant stream of visitors, with the Genuine Grundomats and other equipment on display and the TT Asia Pacific team on hand to answer all the questions.
TT Asia Pacific is a member of the world wide Tracto-Technik Group of Companies,. Representatives of Prime Drilling, TT UK Limited, and McAllen (Tianjin) International Trading Company of Beijing, were also present on the stand. Tom Hughes, Managing Director of TT Asia Pacific, attributed the success to all members of the team. He said that GrundoDrill, Grundoburst, Grundoram and the Genuine Grundomat products had once again proved to be the leaders in high quality Trenchless Technology. The efforts made by exhibitors with regard to booth design, the range of products available and the staff on hand were all outstanding. Delegates and trade visitors overwhelmingly provided positive feedback on the quality of the exhibition.
Visit
www.trenchless-australasia.com
for all the news, photos and video of Trenchless Australasia 2009 conference and exhibition.
Contact:
TT UK LTD.
10 Windsor Road
Bedford MK 42 9SU
PH.: +44 (0)1234.342.566
FAX: +44 (0)1234.352.184
E-Mail: info@tt-uk.com
Internet: www.tt-uk.com

Contact
TT UK Ltd.
42 9SU Bedford MK
Phone:
+44 1234.342.566
Fax:
+44 1234.352.184
E-Mail:
info@tt-uk.com
Internet:
To website