TriHawk® Downhole Tools Now Available At Ditch Witch® Dealerships
New TriHawk® HD housings and TriHawk drill bits are now available through the worldwide Ditch Witch® dealer network. Also newly available are the Hawkeye™ quick connect system and the dirt bit adaptor, products compatible with TriHawk downhole tools.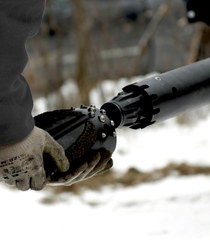 The Charles Machine Works (CMW), Inc., manufacturer of
Ditch Witch
® underground construction equipment, now offers TriHawk® downhole tools through its worldwide network of Ditch Witch dealerships.
The new TriHawk HD housing offers a number of patented features designed to enhance the efficiency of directional drilling, including a square drive spline that enables operators to quickly and easily change tooling as downhole conditions change. Another patented feature is a boltless, pinned-lid system that provides exceptional protection for—and easy removal of—the tracking electronics. With its innovative, high-flow design, TriHawk has the power and volume necessary to also run two other types of trenchless systems: mud motors and air hammers.
Available in four sizes, the new TriHawk HD housing is compatible with Ditch Witch and Vermeer® drills, and is now available at Ditch Witch dealerships. Four TriHawk bits are available for use with the new TriHawk HD housing:
The patented TriHawk I is designed for soft rock conditions up to 8,000 psi (552 bar), and is also productive in dry, compacted soils as well as cobble and broken formations.
The patented, abrasion-resistant TriHawk III features powerful, carbide-core cutting teeth designed to efficiently cut through soft to medium rock up to 12,000 psi (827 bar) and cobble.
The TriHawk IV drill bit is designed for use in heavy, overburdened cobble or fractured rock.
The TriHawk V drill bit combines torque-edge steering with thrust-face steering for exceptional performance in round rock cobble, flat river stone, hardpan and loose fill.
For enhanced durability, all TriHawk bits are reinforced with ample amounts of strategically placed carbide grit.
Also available are the dirt bit adaptor and the Hawkeye™ quick connect system. These are designed to enhance the performance of TriHawk downhole tools.
With the economical Ditch Witch dirt bit adaptor, customers can quickly and easily convert their TriHawk HD housing into a dirt drilling system. The dirt bit adaptor enables operators to drill in all soil conditions, and it is available in both Ditch Witch and Vermeer plate bit bolt patterns.
The Hawkeye quick connect system was developed specifically for today's more-powerful directional drilling rigs, which have much greater torque and pullback than their predecessors. Hawkeye's patented wear-compensating design improves directional drilling steering control and tool life. Hawkeye adaptors are designed to simplify tooling upgrades to most directional drilling brands.
Also available through Ditch Witch dealerships are factory-rebuilt programs for TriHawk tooling and housings. To reinforce the strength and durability of each remanufactured bit, temperatures are carefully controlled and a critical material blend is applied during each step of the rebuild process.
Contact
The Charles Machine Works, Inc.
Jeri Lamerton
P.O. Box 66
73077 Perry, OK
United States
Phone:
(+1) 580 - 336 - 4402
Fax:
(+1) 580 - 572 - 5823
E-Mail:
jeri.lamerton@ditchwitch.com
Internet:
To website