Tried the Rest, Bought the Best – GRUNDODRILL 15XP
On a visit to the UK in late autumn of 2011 Trenchless Technology Contractor Rescue Rod from Sebenza in South Africa visited TT-UK looking for the latest technologies available to them for the trenchless replacement and renewal of underground pipes and cables.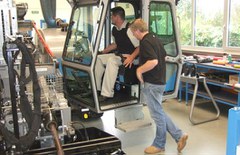 Rescue Rod, specializing in the latest technologies of high pressure water jetting, CCTV and Building and Civils Contracts, have all the skills necessary, including being an approved contractor of Municipalities, Government and the Mining industry, covers a diverse range of Civil Engineering projects including major groundworks.
No stranger to HDD, Rescue Rod's Managing Director Trevor Quigley and General Manger Bobby Smit needed an improved performance Horizontal Directional Drilling rig that could deal with the changeable and challenging ground conditions encountered throughout South Africa.
TT-UK's Roger Atherton (Overseas Business Development Manager) took them through the distinct operational advantages and benefits of the TT Group's Grundodrill 15XP HDD system.With emphasis on performance, reliability and robust build quality, Trevor and Bobby were also particularly interested in the unique dynamic (29 tonnes) impact action (1500 strokes per minute) applied to the drill rods and pilot bore head, very useful when trying to establish an accurate pilot bore in difficult hard compact ground conditions.
After a short demonstration showcasing the overall operational ease with latest built-in LCD display monitor incorporating bore date log - telemetric data capture – auto-bore of the thrust/pull back and rotation forces - and pre-equipped for rock-drilling etc, a purchase contract was subsequently agreed.
Both Trevor and Bobby attended TT Germany together with the TT-UK's HDD drill specialist Jim Albarella for a thorough operational and maintenance training course held at TT Germany's bespoke HDD training centre, after which the Grundodrill was sea-freighted to South Africa.
Following delivery to Rescue Rod's premises in Sebenza, Stuart Hawkins, Trenchless Manager, soon set about putting the Grundodrill 15XP through its paced and describes several earlier job site successes:
Johannesburg N3 Highway, varied ground conditions between soft red soil and clay. To install 160m of 110mm diameter HDPE
Orlando, Soweto – in the vicinity of Winnie Mandela's house. To install a 355mm sewer over a distance of 120m under a dry river bed which floods after rain
Golden Highway, Soweto. Challenging ground conditions consisting of a type of sandstone – very hard in places – but the Grundodrill 15XP's percussive hammer action ensure success. Installation of a 450mm diameter HDPE sleeve over a bore distance of 80m
So delighted are Rescue Rod with the reliability and advanced 15 XP HDD performance and after sales service/support from TT-UK, that consideration is being given to purchase the larger capacity Grundodrill 25N.
Contact
TRACTO-TECHNIK GmbH & Co. KG
Reiherstraße 2
5736 Lennestadt
Germany
Phone:
+49 (0) 2723 / 808-0
Fax:
+49 (0) 2723 / 808-180
E-Mail:
export@tracto-technik.de
Internet:
To website