TRIC Tools Revised Website Animates its Pipe Bursting Process
TRIC Tools new animation highlighting its lateral pipe bursting method.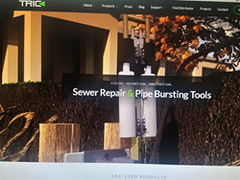 TRIC Tools, Inc., the Northern California based Pipe Bursting Technology Company, proudly announces the re-release of its new website, http://www.trictools.com.
TRIC's website went live in June 2018. Trenchless Marketing animated TRIC's X30 (30-ton) Pipe Bursting hydraulic ram, which has been a flagship product for the company for the past 10 years.
The X30 has been a key product that has enabled plumbers and construction companies to replace water and sewer pipelines from ¾" to 6" with minimal excavation. Next , TRIC and Trenchless Marketing will animate TRIC's Municipal M100 (100-ton) hydraulic ram. The demand for the M100 has been growing both locally and internationally. The M100 allows contractors to replace pipelines from 6" to 16" pipes.
TRIC had discussed the new animation with Trenchless Marketing's CEO Matt Benton over the past 6 months. TRIC has been working with Trenchless Marketing for the past 6 years for Site Engine Optization (SEO) and Pay Per Click (PPC) marketing. Matt is very dedicated to the industry. Matt said: "Trenchless Marketing has changed the game and completely disrupted the "business-as-usual" online marketing in an ever evolving industry that demands a deeper more committed relationship with its industry partners."
TRIC also uses Trenchless Marketing's Real Time Reviews' Client Review app for customer product reviews. There were a few industry events and trade shows that created the impetus to re-launch the website. TRIC's Director of Marketing, John Rafferty and Engineer Max Darrow provided key photos and drawings for Trenchless Marketing's animation.
With the launch of the new website, TRIC offers information on Pipe Bursting equipment for the trenchless replacement of underground utilities. TRIC remains focused on its R&D as it focuses on improving the quality and diversity of its Pipe Bursting Equipment for its users in the field.
The website is organized into eight sections. The sections describe who TRIC is, what products and services they offer and how they can assist you in meeting your trenchless project needs. Each page provides detailed information on TRIC's commitment and dedication to the Pipe Bursting industry. The website features schematics and exploded views of our products that make it easy to identify replacement parts online.
For more information about Trenchless Pipe Bursting equipment or the Trenchless Industry in general – please call 888-883-8742 or visit the website at http://www.trictools.com. Get your Trenchless Sewer and Water Replacement service off on the right foot, one lateral at a time.
Contact
TRIC Tools, Inc.
1350 S. Loop Rd., #104
CA, 94502-7081 Alameda
United States
Phone:
+1 510-865-8742
Fax:
+1 510 217-9493
E-Mail:
sales@trictools.com
Internet:
To website