TRIC Tools introduces David Huff as National Sales Manager
Trenchless Pipe Bursting Manufacturer, TRIC Tools, introduces David Huff as its National Sales Manager.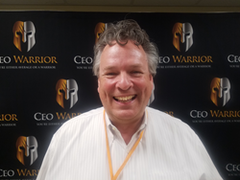 Trenchless Pipe Bursting Manufacturer is proud to introduce its new National Sales Manager. David Huff comes with twenty years' experience building relationships in legal, lending and custom wood manufacturing businesses, David feels right at home in the creative environment of TRIC TOOLS.
It doesn't hurt that he grew up as a heavy equipment operator in a family construction business. The holes were bigger and certainly deeper, and the equipment was far more complicated to move between projects. "That construction work helped me get through my college days," says David. "Thanks Dad, for insuring there was always a CAT seat with my name on it, and more work available than hours in a day."
David also brings another side as well, a musical talent, which became an itch needing to be scratched. With a graduate degree from Northwestern, David lived in Miami for a year singing with the Greater Miami Opera, and spent the next 15 years singing professionally in New York. David married a California girl, also a professional singer, and eventually relocated to the Bay Area to raise their two kids.
"What I find most enjoyable about TRIC TOOLS is that the team here consists of very bright, interesting and creative people, with a passion for making each day the best experience possible for our customer and I love that."
When not at TRIC TOOLS, David can be found singing in or conducting an ensemble somewhere. "Singing is good for the soul and makes people happy, " said David. He continued, "It also pairs well with good food and wine - what's not to like?"
About TRIC Tools, Inc.
TRIC Tools, Inc. is an infrastructure and environmental solutions company that provides proprietary technology, tools and services for trenchless rehabilitation and replacement of sewer, water, gas and other difficult to access underground pipes. TRIC holds five U.S. and International patents for its device and method of trenchless pipe bursting.
In 1997, TRIC established the standards and created the industry for lateral replacement (home sewer line) using its pipe bursting technology. TRIC continues to re-engineer its technology for new markets, expanding upon its domestic sewer lateral tools with the introduction of innovative solutions for mainline sewer, drinking water and gas distribution pipelines.
Contact
TRIC Tools, Inc.
1350 S. Loop Rd., #104
CA, 94502-7081 Alameda
United States
Phone:
+1 888 883-8742
Fax:
+1 510 217-9493
E-Mail:
sales@trictools.com
Internet:
To website