Trenchless Pipe Bursting Manufacturer TRIC Tools, Inc. Announces New Website and Launch
Pipe Bursting Manufacturer TRIC Tools, Inc. has just launched its new website. The website is more user friendly for TRIC's clients, partners and prospects.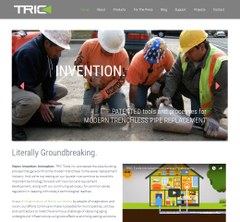 Trenchless Pipe Bursting manufacturer TRIC Tools, Inc. is excited to announce the launch of their new website, which features a WordPress scrollable design to better serve new and old customers alike. TRIC Director of Marketing and Tech Support John Rafferty says the new website makes use of the latest design and will be much easier for customers to navigate and put together a pipe bursting package to meet their needs. John Rafferty added, "I really enjoyed working with Suzanne Marie Chin of Creative Raven.
She and her entire team were very helpful and supportive throughout the collaborative process." Matt Benton of Trenchless Marketing will be coordinating site engine optimization (SEO), social media and backend support for the website. The technical support section will assist equipment owners with material data sheets, schematics, online technical manuals and industry code approvals.
In addition to an expanded history of TRIC's beginnings, TRIC has sections for the press and blogs about the industry. TRIC has been in business for 18 years and has built many of the standards that support the lateral pipe bursting industry. The new TRIC site will provide the latest information and tech support, while making it easier than ever to get the right tool for the job.
"Many of our contractors don't spend much time on the computer, and instead they're on their mobile devices in the field," Rafferty said. "They need something that's simple and easy to get the information they need quickly," he continued. The new design allows the user to scroll continuously through the content on the website, rather than having to click through page after page as with the previous website.
The new website has added content for both new and old customers to learn more about the company's pipe bursting products and processes. The site features an expanded editorial section with links to YouTube channel and Flicker photo stream. Moving forward there will be a new eCommerce section, allowing established customers and Distributors to more easily find part numbers and order equipment online.
TRIC invented and patented the first Lateral Pipe Bursting System while simultaneously gaining national approval of HDPE pipe for its use, thus opening the market for trenchless home sewer replacement in America.
Contact
TRIC Tools, Inc.
Micheal Lien
1350 S Loop Rd #104
94502 Alameda
United States
Phone:
+1 510 629-4169
Internet:
To website