TRELLEBORG Appoints Business Unit President to Drive Profitable Growth in Pipe Seal Business
Simon Burke has been appointed president of Trelleborg's pipe seals operation. Based in Lelystad, Netherlands, Burke will be responsible for the strategic direction, growth and management of Trelleborg's pipe seals operation globally.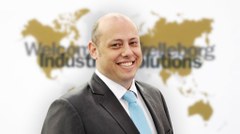 Burke has almost 10 years' experience in business-to-business sales and market development at Trelleborg. He previously worked for five years as Commercial Manager for pipe seals in North America, after spending four years as Business Development Manager in Singapore.
During his time at Trelleborg, Simon has successfully developed and achieved significant growth in key markets. He has an excellent understanding of the business on a global scale from technical application to sales, and has been instrumental to the company's success over the past decade.  These achievements in addition to his international experience make Simon the perfect candidate to continue Trelleborg's drive for profitable growth globally.
Simon Burke, says: "Trelleborg's pipe seals operation has been through many changes in the past decade, but keeps growing and gaining recognition throughout the industry. I am delighted to be given the opportunity to help the company flourish in the years to come in my new role within the operation.
"It's an exciting time for the pipe seals business in all regions. The increase in urbanization and the pressure to preserve clean water and provide sanitation continues to grow exponentially. While developed countries are looking to repair or replace their aging infrastructure and invest in more sustainable solutions, developing markets face a growing demand for quality drinking water networks and sanitation."
Trelleborg's pipe seals operation is a supplier of new and rehabilitation sealing solutions for concrete, plastic pipes and manhole structures used for water, sewerage and drainage.
Burke's predecessor, Bill Hagenberg, has been appointed President for Trelleborg's fluid handling solutions business.
Contact
Trelleborg Pipe Seals B.V.
P.O.Box 62
8200 AB Lelystad
Netherlands
Phone:
+31 320 2679-79
Fax:
+31 320 2679-80
Internet:
To website