Three new sessions added to WEFTEC.06 technical program
The Water Environment Federation (WEF) announces the addition of three special sessions to the technical program of WEFTEC®.06, the Federation's 79th annual technical exhibition and conference. The sessions are part of a comprehensive educational program that includes 94 technical sessions, 25 workshops and 8 facility tours.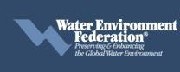 Tuesday, October 24, 1:30 pm - 5:00 pm, Room D220/227
Compounds of Emerging Concern: Endocrine Disruption Compounds
will explore the issues surrounding Compounds of Emerging Concern (CECs) and will focus on Endocrine Disrupting Compounds (EDCs). Key leaders will discuss the importance of CECs/EDCs, what research has been done and what conclusions have been made, what future research is needed and what is next on the horizon concerning CECs/EDCs for industries, water and wastewater utilities, agribusiness, feedlot operations, municipalities, citizens, and others.
Wednesday, October 25, 8:30 am to 10:00 am, Room D220
Reactivation/Regrowth of Fecal Coliforms Associated with Anaerobically Digested and Dewatered Biosolids
will review the Water Environment Research Foundation's (WERF) report, Examination of Reactivation and Regrowth of Fecal Coliforms in Centrifuge Dewatered, Anaerobically Digested Sludges. Released in June 2006, the report investigated the hypothesis that fecal coliforms entered a viable but non-culturable state during digestion and could be reactivated and experience re-growth after centrifuge dewatering. Phase 2 of this work - currently in progress - will verify and better understand the reactivation and re-growth phenomena and develop mitigation strategies. The session will feature a discussion of the report findings from several different perspectives, including EPA and equipment managers, the status of ongoing research and an overview of WEF's technical practice update, released in response to the report this past August.
Wednesday, October 25, 1:30 pm to 3:30 pm, Room C141
New Approaches to Water and Wastewater Management in Latin America – Service Standards and Transparency
will cover new trends on water and wastewater management in Latin America, transparency in administration and business, the role of ISO 24500 standards, and the role of public and private entities to reduce the existing deficit in sanitation.
As the largest water quality event in North America, WEFTEC.06 is expected to draw over 16,000 water quality professionals from around the world to Dallas, Texas. Held October 21- 25, the conference offers the best water quality education and training available today and is a leading source for water quality developments, research, regulations, solutions, and cutting-edge technologies. For the latest details, visit
www.weftec.org
.