Third "TRACTO-TECHNIK Group MD Meeting"
The management of the global TRACTO-TECHNIK Group met on 10 and 11 October 2017 for the third "Group MD Meeting" at the company headquarters in Lennestadt. The managing directors of the sister companies in England, France, Morocco, Australia and the USA came together with the German management in order to exchange in-depth information on the status and prospects of the global measures for the strategic alignment and further development of the group.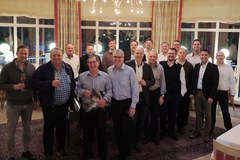 The second management meeting of the TRACTO-TECHNIK Group this year mainly focussed on the digitalisation of processes, products and services, as well as the steps in sales, marketing and after-sales for the enhanced development of the international markets for trenchless technologies.
The "Group MD Meeting" was also an opportunity to officially implement a change at the top of management of TRACTO-TECHNIK's Australian sister company TT Asia Pacific in Brisbane, as the current long-standing Managing Director Tom Hughes will be taking his well-deserved retirement in the near future.
As part of a gala dinner, the management of TRACTO-TECHNIK acknowledged the accomplishments of Tom Hughes during his almost twenty years at TT Asia Pacific and thanked him for his relentless dedication and efforts in the development of the markets "down under".
Tom Hughes' successor is the Australian-born Jeffrey Rose. The 55-year-old mechanical engineer has many years of experience in the international construction equipment industry and has held various managerial positions in sales and product management. Uwe Prinz, Managing Director of Sales & Marketing of TRACTO-TECHNIK, commented: "We are very happy to have found a suitable successor to Tom on a personal and professional level in Jeffrey Rose. The markets there still have lots of potential for our trenchless technologies that we will specifically exploit under Jeffrey's management."
Parallel to the change at the top, the Australian subsidiary will also change its name from TT Asia Pacific Pty Ltd to TRACTO-TECHNIK Australia Pty Ltd. With this name change the company wants to illustrate its affiliation with the group and thus benefit even more from the brand's good reputation worldwide on the international markets.
After the third Group MD Meeting everybody involved was absolutely positive. Representing everyone Wolfgang Schmidt, owner and Managing Director of TRACTO-TECHNIK, stated: "Thanks to the regular exchange of information we are better able to control the sustainable growth of the company and identify where we have to make any readjustments. It is extremely gratifying to see how together we achieve the common objectives to secure the company's long-term success step by step." The intensive exchange will be continued at the next management meeting which will take place in May 2018 at the headquarters of the English sister company TRACTO-TECHNIK UK in Bedford.
Contact
TRACTO-TECHNIK GmbH & Co. KG
Paul Schmidt Straße 2
57368 Lennestadt
Germany
Phone:
+49 2723 808-0
Fax:
+49 2723 808-180
E-Mail:
info@tracto-technik.de
Internet:
To website