ThermoLiner plus - the highly flexible liner for negotiating sharp bends and dimension variations in house connections
The use of flexible tube liners in the rehabilitation of house connection pipes has taken hold as a technically mature alternative to costly "dig-out" repairs. Frequently, those house connection pipes that are in need of repair have not been installed in a professional manner. They commonly have sharp bends that are impassable for many of the liner systems prevalent in the industry. Frequently, a substitute is used that fails to produce satisfactory results.
ThermoLiner
plus
from Easy Liner GmbH in Bochum, Germany allows for the rehabilitation of pipe profiles containing obstructive bends as acute as 87°. As well, the liner can be installed in pipes with variations in dimension.
This versatile liner system with a wall thickness of approximately 3.5 millimetres (under a pressure of 0.3 bar [4.4 psi]) consists of polyester needled felt coated with polyurethane (i.e. PU). The liner tube places at the disposal of the professional technician a highly-specialised product with which to rehabilitate house connection pipes and ducts containing several bends. With ThermoLiner
plus
, such challenges can be handled quickly and at reduced cost.
ThermoLiner
plus
is manufactured at our headquarters in Bochum and offered in diameters of 100, 125, 150 and 200 millimetres (4 – 8˝) and rolls of 50 or 100 metre (164 – 328´) lengths. The seam, sewn together and sealed with thermo-bonded tape that is 25 millimetres (1˝) wide, can easily withstand pressures within the recommended range of 0.2 to 0.4 bar (2.9 – 5.8 psi). Exposed ends of the liner are protected by following the appropriate guidelines.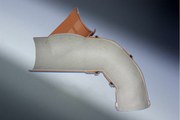 The inverted liner traverses bends and other obstacles in the pipe very smoothly due to its ultra-soft polyurethane transfer coating. With its enhanced stretching capability, one need not be concerned about cavities at the periphery between the liner and the old pipe wall. The inner side of the liner is altogether free of wrinkles once the impregnated resin has cured (see Figure 1).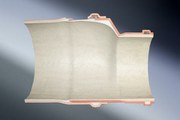 Due to the expansive, exceptionally flexible polyester needled felt composition, the radial elasticity of ThermoLiner
plus
is so high that a pipe containing a jump in diameter to the next-larger width can be lined smoothly using the same tube (see Picture 2).
In addition, the special structure of the liner tube felt allows for very good impregnation of Easy Pox and Easy Lith
®
resin using a vacuum pump. The numerous varieties of resin from Easy Liner, including several two-component reaction resins based on epoxy, allow for very flexible work on job sites. Their viscosity is optimally tuned to the capillarity of the ThermoLiner
plus
felt. Easy Liner has four ambient-curing and two thermoset epoxy resins available to its customers, each with different setting and curing times. Employing this assortment, the installation professional has the flexibility to compensate for various job site conditions, pipe dimensions and preferred curing temperatures (up to 80 °C [176 °F]).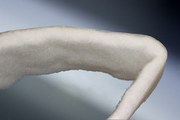 As an interesting alternative to epoxy-based resin, Easy Liner offers the silicate resin Easy Lith
®
, which allows for fast curing of the liner even under ambient conditions. Wherever waste water pipes need to be restored into service very quickly, and especially for the rehabilitation of high-volume pipes otherwise necessitating a costly bypass, the preferred resin solution of many professional service contractors is Easy Lith
®
.
ThermoLiner
plus
is one of the elements comprising the proposal for DIBt (German Institute of Construction Technology) certification of Easy Liner GmbH expected by the end of the year 2006.
The assortment of products on offer at Easy Liner besides ThermoLiner
plus
includes an array of liner systems for optimising effort and accommodating specific circumstances:
FlexLiner:
PVC-coated liner
Ambient or thermoset curing up to 50 °C (122 °F)
Available in Ø 100 to Ø 300 mm (4 – 12˝)
Wall thickness: 3.5 or 5 mm
ThermoLiner:
PU-coated liner
Ambient or thermoset curing up to 80 °C (176 °F)
Available in Ø 150 to Ø 300 mm (6 – 12˝)
Wall thickness: 3 or 5 mm
OF Liner:
Polyolefin-coated liner
Steam curing liner up to 115 °C (239 °F)
Available in Ø 150 to Ø 1000 mm (6 – 40˝)
Wall thickness: 2 to 21 mm
SoftLiner:
PU-coated liner
Ambient or thermoset curing up to 80 °C (176 °F)
Available in Ø 100 to Ø 300 mm (4 – 12˝)
Wall thickness: 2 or 3.5 mm
BendiLiner
Elastic, PU-coated liner
Ambient or thermoset curing up to 50 °C (122 °F)
Available in Ø 100/125/150 mm (4/5/6˝)
Wall thickness: 2.5 mm
The system is completed by a variety of calibration tubes, each of which can be used under ambient or thermoset curing conditions up to a temperature of 80 °C (176 °F).
As a "One-Stop Shop" in pipe rehabilitation, Easy Liner offers practical training for professional service contractors in the preparation and installation of house connection liners. Theoretical as well as practical elements are incorporated into the coursework. Completion of the training is acknowledged by the certification of all active participants.
Contact
Patrick McKelvy
44795 Bochum
Phone:
+49 (234) 51 69 96-0
Fax:
+49 (234) 51 69 96-6
E-Mail:
info@easyliner.de
Internet:
To website