The new reliable, two-stage DuoLine rotary vane pumps
Pfeiffer Vacuum presents the new two-stage DuoLine rotary vane pumps. The compact vacuum pumps are distinguished by a newly developed pump system and optimized cooling. These changes have a significant impact on the service lives of the pumps. The long maintenance intervals, the energy-efficient motors and the optional oil return lower the operating costs to a very low level.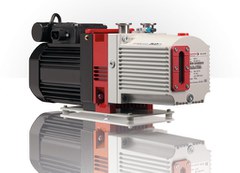 The integrated, hydraulically controlled high-vacuum safety valve increases operational reliability. The reduced footprint, lighter weight and placement of the vacuum connections on its top side guarantee the pumps' easy system integration.
The DuoLine pumps are offered with a conventional radial shaft sealing ring or with a magnetic coupling. The innovative drive concept hermetically seals the magnetically coupled rotary vane pumps. The operating costs of the magnetically coupled pump are very low, as it is virtually maintenance-free.
The DuoLine covers numerous applications in the low and medium vacuum range.
Contact
Pfeiffer Vacuum GmbH
Sabine Neubrand-Trylat
Berliner Strasse 43
35614 Asslar
Germany
Phone:
+49 (0) 6441 / 802-1223
Fax:
+49 (0) 6441 / 802-1500
E-Mail:
info@pfeiffer-vacuum.de
Internet:
To website