The Ditch Witch® Organization Launches New, Innovative JT20XP Directional Drill Package
Full 118-hp utilization offers large-scale, industry-leading power without compromising jobsite footprint.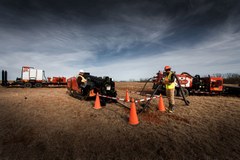 Ditch Witch®, a Charles Machine Works Company, released a new JT20XP horizontal directional drill (HDD) package featuring a JT20XP drill and XP44 mixing system. The industry-first solution is the only drilling system in its class to utilize all on-board horsepower for thrust and rotation.
Together, the full 118-hp solution provides operators industry-leading power and superior productivity for larger utility-installation jobs.
"We designed the JT20XP package to complement the unique needs of HDD contractors in the mid-sized utility-installation space," said Seth Matthesen, Ditch Witch HDD category manager. "The JT20XP drill provides improved spindle torque and speed over its predecessor, while delivering 56 percent more mud flow than competitive units. It's matched by the XP44's superior mixing capabilities to offer a more productive solution for larger jobs, while retaining a small, compact footprint."
The full XP package features an innovative, compact design making it easy to maneuver and transport between urban jobsites. And it offers contractors an all-diesel jobsite for more convenient operations and simple fuel service.
Powered by a 74.5-hp Tier-4 Deutz® diesel engine, the JT20XP HDD maximizes available horsepower for thrust and rotation. The drill delivers 14 percent increased spindle torque over its predecessor and offers 10 percent increased spindle speed than competitive units, allowing operators the ability to run downhole tooling at faster speeds for improved underground cutting.
With no grease zerks – a Ditch Witch exclusive – the JT20XP is easy to maintain for increased uptime. And, the environmentally friendly, Tier-4 engine requires no DEF, further simplifying maintenance.
Following a similar look and feel to all Ditch Witch drills, the JT20XP is equipped with a newly designed operator's station featuring ergonomic, adjustable seats to keep the operator comfortable for long hours on the job. And, an advanced, color LCD display provides engine diagnostics and informational messages, including electronic strike indicators (ESID), helping operators stay aware of what's going on in and around the drill and jobsite.
The XP44 mixing system is equipped with a dedicated 44-hp Tier 4 Yanmar® diesel engine for superior mixing capabilities and drilling fluid delivery. As a powerful stand-alone, diesel-powered mixing system, the XP44 offers excellent mixing capabilities in a quieter package for less disruption in noise-sensitive areas.
About the Ditch Witch® Organization
Ditch Witch, a Charles Machine Works Company, invented the underground utility construction industry, and today it designs, manufactures and markets the most complete line of directional drills, drill pipe, HDD tooling, vacuum excavators, trenchers, chain, teeth and sprockets, mini-skid steers and vibratory plows. Handcrafted in the USA, its products are supported by the Ditch Witch dealer network with over 175 locations worldwide.
About Charles Machine Works
Established in 1902, Charles Machine Works, an employee-owned company, founded in Perry, Oklahoma, is the only manufacturer and global distributor that solely exists to make underground utility construction profitable. Our family of companies includes Ditch Witch
®
, Subsite
®
Electronics, DW/TXS
®
, HammerHead
®
, Radius
®
HDD, American Augers
®
, Trencor
®
and MTI
®
Equipment. For more information, visit
c

harlesmachinev.works
.
Contact
Ditch Witch
1959 W. Fir Ave.
OK 73077-0066 Perry
United States
Phone:
+1 800-654-6481
Fax:
+1 580-336-3458
E-Mail:
info@ditchwitch.com
Internet:
To website