The Ditch Witch Organization Releases New Ground Penetrating Radar
The Ditch Witch ® organization announces the release of its new 2450GR Ground Penetrating Radar system , a state-of-the-art radar designed to help subsurface utility engineers locate and detect utilities, including electric, water, sewer, and gas conduit and piping, and communications cable.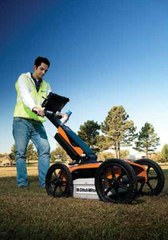 The 2450GR uses radar pulses to image the subsurface and detect both metallic and non-metallic pipes and cables to depths of up to 19 feet (6 m). An invaluable tool in utility mapping efforts, the 2450GR is effective in a variety of ground conditions, including rock, soil, pavements and other materials. With 5.6 mph (9 km/h) survey speed and digitally controlled radar, the 2450GR provides fast, clear images and accurate surveys whether the operator is pushing or pulling it across any surface. When the surface is uneven, the 2450GR's dual-frequency, earth-engaged antenna helps maintain signal strength. The advantage of the dual-frequency antenna is that it simultaneously sweeps in two frequencies at depths of up to 19 ft (6m), allowing for one-pass locates.
The 2450GR is designed with a number of exclusive features that enable the unit to withstand tough jobsite conditions while maintaining productivity. One is a rugged, four-wheel cart that helps provide reliability and durability on the jobsite. The unit's 14-inch wheels are designed to improve access to rough terrain and loose soils. The 2450GR folds up to make the unit easy to transport to any jobsite.
Another feature is an axle-mounted distance-measuring device, the location of which makes the 2450GR more reliable than competitive models. And the 2450GR's exceptionally robust enclosure helps improve productivity by protecting the controller and vital cables from damage and wear.
In addition to subsurface utility detection, the new 2450GR also has a wide range of other applications that include urban planning, exploratory and archeological digs, void and sinkhole detection, concrete detection, unmarked burial detection in cemeteries, locating underground storage tanks, and for detecting metallic and non-metallic pipe and cable in and around landfills, manufacturing plants, parking garages, hospitals, airports, hotels, and universities.