The Demand for Cross Bore Inspection Services is Growing
Identifying and eliminating cross bores is a top priority for gas utilities. In fact, millions of dollars are being invested in mitigating cross bore risks. These projects can be low-hanging fruit for sewer inspection contractors looking to grow their business.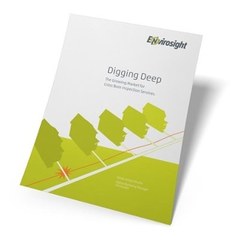 In Digging Deep: The Growing Market for Cross Bore Inspection Services, we discuss the factors a company must consider before entering into the cross bore inspection services arena, including the opportunities available, resources needed and clientele. We also reveal strategies our customers have shared for achieving success in this market.
Cross bores are a threat to communities, the environment and underground utility companies, and operators are investing significant resources into identifying and eliminating risk. Is your company poised to exploit this growing market?
Download the FREE paper on cross bore inspection services to learn more.