The Complete Guide to Pipe Selection for Trenchless Projects
A free online resource has been launched to assist professionals in the trenchless industry select the correct type of pipe for installation and refurbishment projects.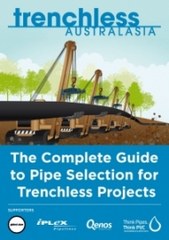 The choice of pipe material is an important consideration when designing road, river and rail crossings and other trenchless installations.There is a diverse range of materials available - including high - density polyethylene, polyvinyl chloride and glass reinforced pipe - all of which have evolved to fulfil specific purpose in modern towns and cities.
The e-guide includes
Overview of pipe
Applications - trenchless techniques
A brief history of pipe
Pipe options: type, application, pricepoint
New Technologies
Securing your pipe
Future proofing your asset
Directory of the complete Guide to Pipe Selection for Trenchless Projects Providers.
The e-guide has been put together by Trenchless Australasia with the support of sponsors Global Pipe, Iplex Pipelines, Qenos, and Think Pipes,  Think PVC, and has been made available FREE on Trenchless Australasia´s website.
Click here to download the complete Guide to Pipe Selection for Trenchless Projects