The 2nd TTC Annual Utility Investigation School (UIS)
The Trenchless Technology Center (TTC) at Louisiana Tech University (LA Tech) is pleased inform you that we are partnering with the ASCE UESI (Utility Engineering and Surveying Institute) and the National Utility Contractors Association (NUCA) to offer the 2nd UIS. This 5-day TTC Specialty School will focus on the ASCE 38-02 Standard Guideline for the location and depiction of underground utilities.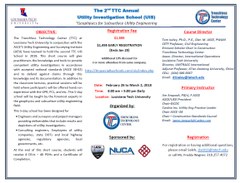 In addition to the classroom lectures, practical sessions will be held where participants will be offered hands-on experience with the GPR, PCL, and etc. This 5-day school from Feb 26, 2018 until March 02, 2018 will be taught by the foremost experts in the geophysics and subsurface utility engineering field. The school has been designed for:
Engineers and surveyors and project managers providing deliverables that include results and depictions of utility investigations
Consulting engineers, employees of utility companies, state DOTs and local highway agencies, regulatory agencies, local governments, etc.
At the end of this short course, students will receive 4 CEUs – 40 PDHs and a Certificate of Completion. This course is specifically designed for professionals by international leaders in subsurface utility engineering (SUE). They will teach you how to identify and manage the risk associated with all aspects related to underground utilities.
For more information, visit the homepage of TTC Utility Investigation School. Don't miss the discount for early registration! It has been reported that over 379,000 utility hits occurred last year costing the industry billions of dollars and numerous loss of lives. The best insurance that you can obtain is being informed.
For additional information on the course, you may also check UNITRACC's calender.
For registration or having additional questions, you may also email Saleh [sbe013@latech.edu] or call Ms. Fredda Wagner [+1 318 257 4072]. Please review the flyer and come join us for a week at LA Tech in beautiful Ruston, LA where you will be able to tour the world-class National Trenchless Technology Research Facility. This facility was built on the LA Tech and financed through contributions from TT industry leaders.
Contact
Trenchless Technology Center - Louisiana Tech University
Prof. Dr. Tom Iseley
305 Wisteria St
LA 71272 Ruston
United States
Phone:
+1 318 257 2852
Fax:
+1 318 257 2777
E-Mail:
dtiseleylatech.edu
Internet:
To website