Thames Water's high-powered jet to help clear up sewers
A high-powered concrete-busting kit has been brought in by Thames Water to tackle the menace of cowboy builders pouring concrete into sewers.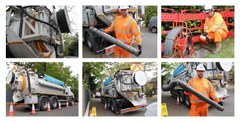 The new 12,000 PSI jet tanker is powerful enough to blast through concrete and other materials that clog up the sewer network and potentially cause blockages and in turn, bursts, leaks and flooding.
Instances of concrete being poured into the network are increasing and causing problems for Thames Water and its customers, but it's hoped the new equipment will help prevent any disruption and allow the sewers to run normally.
In some cases, builders accidently pour concrete and other materials down drains and sewers, but in others it appears to be a deliberate act to avoid the need to dispose of it legitimately.
Alex Saunders, area manager for Thames Water, said: "We realised we needed a new weapon in our armoury to tackle extreme blockages, and this jet does that.
"By their very nature, blockages can be devastating for whole communities. One moment a large sewer can be flowing freely, the next it can be completely blocked, or flooding, inconveniencing thousands of wastewater customers.
"We're always looking for new ways to fight the problem and this jet will stop any serious problems before they arise."
The JHL high-pressure unit, was first used by teams in March, and will also help the team clear up fatbergs – the build-up of fats, oils, greases and other non-flushable items which congeal into one solid mass.
Every year, Thames Water tackles 85,000 blockages throughout its sewer network, and has launched an awareness-raising campaign of 'Bin it – don't block it' to encourage people not to flush non-flushable items down the toilet.
In February this year, the company started a major civil engineering project to remove a 10-metre section of main sewer under Hanover Park, Peckham, South London, which was found to be completed filled with concrete.
The COMBI jet vac tanker has three jetting reels, including a high pressure jetting unit with a 130 metre hose that can jet at up to 11,637 pounds per square inch.
It is operated by wastewater engineers Chris Costin and Dan Merry.
Mr Costin said: "This is a very effective piece of kit. We can now cut large chunks of concrete and other material from inside pipes, and remove pretty much all traces of the blockage to reduce the risk of snagging and further blockages.
"If the sewer is blocked along its length, there may be no option but to excavate and replace it. But for a lot of our most serious blockage problems, we've now stepped up several levels in our capability to deal with them."
Contact
Thames Water Utilities Limited
Clearwater Court, Vastern Road
RG1 8DB Reading
United Kingdom
Internet:
To website