Thames Water completes work on multi-million-pound Didcot sewer
Work to construct one of the largest sewers in the Thames Valley was completed in April.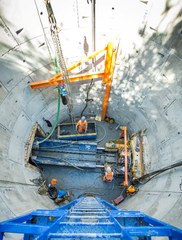 The complex feat of engineering, which has seen Thames Water and partners bore under the Great Western Mainline, has been built to support 6,000 new homes at Great Western Park and Valley Park to the west of Didcot.
Specialist tunnelling machinery was used to lay 1,200 metres of pipe – three times around an athletics track – measuring 1.2 metres in diameter. With favourable ground conditions, much of the route was excavated using a man-driven tunnel boring machine (pictured).
The multi-million-pound project, one of the largest of its kind in the Thames Valley and part-funded by SSE Water, has also recently been nominated for 'Partnership Initiative of the Year' at the Water Industry Achievement Awards.
Mark Yates, Thames Water's project manager, said: "It's satisfying to know our new sewer will help support development in the Thames Valley. We've worked collaboratively with SSE Water and developers to ensure that the necessary infrastructure is in place to handle this growth.
"It's a credit to all involved that we're delivering this project on time and on budget – the team should be very proud of their achievement. We see ourselves as planning for and enabling growth in the region."
Simon Taylor, waste water operations manager for SSE Water, said: "A lot of time and effort on both sides has been put into this project to allow the flows from the Great Western Park development and surrounding areas to be drained effectively.
"Working closely with both Thames Water and the developer, we met the significant challenge we faced to deliver a bespoke solution that meets the needs of all parties. It's great to see the completion of a major project like this."
The new sewer will also serve to free up capacity of existing sewer pipes, allowing waste water from an additional 1,000 homes in the southern section of Great Western Park to enter the network, from where it will be transferred to the sewage treatment works in Didcot.
Thames Water's work with developers has seen 86 major projects completed to date, with 196 more in progress.
Contact
Thames Water Utilities Limited
Clearwater Court, Vastern Road
RG1 8DB Reading
United Kingdom
Internet:
To website