TEPPFA Calls on EU and Member State Authorities to List Drinking Water, Sanitation and Waste Water and Their Supply Chains as Vital Under COVID 19 Restrictive Measures
TEPPFA is the Brussels based leading voice of plastic pipe and fittings manufacturers. The 12 direct company members – most of them worldwide leading multinationals – combined with the indirect local company members from 15 national associations represent 350 production sites in Europe that manufacture 3 million tons of plastic pipe systems per year.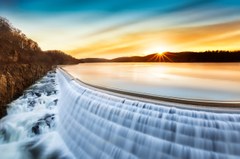 TEPPFA members' below and above ground products and services play a significant role in fighting COVID-19 spread.
The prime objective of TEPPFA members under COVID-19 is to safeguard staff and value chain contacts from contamination through strictly implementing the precautionary measures imposed by the authorities, both in the workplace and on their way to and from production sites.
TEPPFA supports the EU and Member State authorities' continued maintenance and enforcement of the restrictive measures focusing on the health and well-being of EU citizens.
The World Health Organisation (WHO) confirms the correct functioning of, among others, water and sanitation provisions as "essential to protect human health during all infectious disease outbreaks, including the COVID-19 outbreak" in its 19 March interim guidance.
Some Member State authorities have listed water supply, sanitation and waste water treatment plus their goods and service providers as essential in times of COVID-19 management. One of the latest examples is Spain with the publication of the Royal Decree 10/2020 on 29 March.
Drinking water supply and heating interruptions, malfunctioning of sanitation such as blocked toilets and wastewater discharges, potential health implications from stagnant water all need avoiding both at individual households and non-residential facilities such as care homes and hospitals. Plumbers should at all times be able to have access to the goods to carry out the necessary installation, repair and maintenance in full respect of the health and safety instructions delivered by public health authorities.
TEPPFA calls on EU and Member State authorities to list drinking water, sanitation and waste water industries, including their cross-border supply chains, as vital and essential to protect the human health of their citizens during the COVID-19 outbreak. TEPPFA members should continuously have the ability to produce and supply the products and services needed. Plastic pipe manufacturers' operational and logistic activities are highly automated, which allow employees to do their job in today's required strictly safe conditions.
TEPPFA remains at all times available for further information.
About TEPPFA
TEPPFA is The European Plastic Pipe and Fittings Association founded in 1991 with headquarters in Brussels. TEPPFA's 12 multinational company members and 15 national associations across Europe represent 350 companies that manufacture plastic pipes and fittings. TEPPFA's members have an annual production volume of 3 million tonnes directly employing 40,000 people with € 12 billion combined annual sales.

 
Contact
TEPPFA
Avenue de Cortenbergh 71
B-1000 Brussels
Belgium
Phone:
+32 2 736 24 06
E-Mail:
info@teppfa.eu
Internet:
To website