TBM embarks on Spanish rail tunnel
A 10 m (32.8 ft) diameter Single Shield TBM began boring on the Lot 4 west tunnel of the Pajares tunnel project in August 2006. The machine was designed by Robbins and built by MHI-Duro Felguera in Spain. Robbins is supplying the back-up system, electrical and hydraulic components, field service, shield engineering, and part of the conveyor system. The project is part of Spain's Alta Velocidad Española (AVE) high-speed rail link and includes two parallel 10.5 km (6.5 mi) long tunnels for traveling both east and west.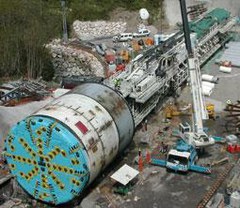 Following its launch, the machine encountered a section of very fractured and blocky rock; however, better ground is expected in another kilometer (0.6 mi). Both east and west tunnels pass under a very high overburden of 1,000 m (3,280 ft), creating a high potential for faults and squeezing ground. The geology in the tunnels consists of sandstone, shale, limestone, molasse, and volcanic rocks with UCS of 40 to 90 Mpa (6,000-13,000 psi).
Robbins designed the Single Shield TBM with several unique features to combat these difficult conditions. An articulating cutterhead can overbore 400 mm (15.7 in), allowing the machine to continue boring in highly pressured rock. The cutterhead is also a mixed face cutterhead for boring in blocky ground.
A continuous lining of 500 mm (19.7 in) thick pre-cast concrete segments is being erected to line the tunnel as the TBM bores. Muck is being transported from the jobsite by a network of conveyors. A unique conveyor system, provided by Robbins, is integrated directly to the back-up system and reduces the number of transfer points between conveyors.
The conveyor design saves space in the tunnel since only a short transfer conveyor is needed to join the back-up conveyor to the main tunnel conveyor. Additionally, the maintenance time on the conveyors and the potential for breakdowns is significantly reduced compared to traditional conveyor systems, which would typically use a system of three conveyors through the back-up to transport muck to the tunnel conveyor. The horizontal tunnel conveyor will extend for 10.2 km (6.38 mi) behind the TBM's back-up system and links up with an extensive network of ten different overland conveyors that transport the muck for disposal in a valley 1 km (0.6 mi) away from the tunnel portal.
The AVE is a Spanish high-speed rail system that will link Madrid and Barcelona to almost all other provincial cities by 2010. Once complete, travel times will be cut to under 6 hours for Barcelona and to under 4 hours for people traveling to Madrid. A network of high-speed trains will transport passengers at top speeds of 350 km/h (217 mph) over a system of more than 7,000 km (4,349 mi) of track.
The entire 49.5 km (30.8 mi) long Pajares bypass will connect Asturias to the Madrid-Valladolid leg of the high-speed rail link. The Pajares route begins at the Asturian village of Telledo and finishes at Viadangos in Leon Province. The Lot 4 west tunnel was awarded to a JV of Constructora Hispanica, Azvi, Brues y Fernandez and Copcisa by project owner Administrador de Infraestructuras Ferroviarias (ADIF).
Further information:
Robbins
Brianna Home (Marketing Director)
Desiree Willis (Technical Writer)
Phone: +1 253 872 0500
Email: marketing@robbinstbm.com
Web: www.robbinstbm.com