Sustainable Water Resources Management: The Book on Research and Development Project CuveWaters
The goal of the German-Namibian project CuveWaters was to make sustainable use of different water sources in one of the driest regions of the world. Between 2004 and 2015 and under the head of ISOE – Institute for Social-Ecological Research, scientists from various disciplines worked together with institutional partners in Namibia as well as residents of the Cuvelai-Etosha Basin on solutions for improved water availability. The results of this transdisciplinary research process were incorporated into an English-language compendium that has now been published.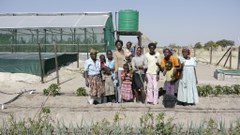 "CuveWaters: Integrated Water Resources Management in Central Northern Namibia (Cuvelai Basin) in the SADC region" indicates how science, technology and society could be linked in order to establish a so-called multi-resource mix for water use with the aim of sustainably improving people's living conditions in the project region.
The book traces an ideal-typical transdisciplinary research process: From the creation of a joint research object to the development and piloting of individual technology lines to the communication and dissemination of an Integrated Water Resources Management (IWRM).
With the integrated approach described in the book, the joint research and development project CuveWaters, with the Technical University of Darmstadt as one of its participants, has succeeded in making water of different qualities available for various purposes thus simultaneously contributing to food security, wastewater disposal, and hygiene.
The technological solutions which were identified and implemented together with the Namibian partners include systems for rainwater and floodwater harvesting which provide irrigation water for agricultural land. This is a novelty for this region and means that several families can grow vegetables all year round and sell them at their local markets.
In addition, plants for solar-coupled groundwater desalination and a new energy-efficient sanitary and wastewater concept with subsequent water reuse were developed. About 1500 inhabitants of Outapi can now use washhouses, showers and toilets. Wastewater is not only used to produce nutrient-containing process water for field irrigation, but it also produces biogas that can be used for the generation of electricity and heating.
Adapting to climate change: Blueprints for demand-oriented solutions
"The CuveWaters book clearly indicates to researchers, experts and practitioners alike how technological and social innovations have to go hand in hand if the common goal of sustainable water supply and wastewater disposal is to be achieved" says Stefan Liehr, ISOE water researcher and co-editor of the book. "With that purpose in mind, the 25 authors make their findings on transdisciplinary research designs and methods available."
The transdisciplinary research approach was developed in order to combine the knowledge of different disciplines while including the experience of those affected in practice, so that solutions appropriate to their needs can be found and also be socially anchored.
In order to be able to continue operating the facilities independently, residents were for example trained in the construction, operation and maintenance of water harvesting facilities. Strengthening the local population's self-responsibility through "capacity development" while simultaneously developing concepts for so-called "good governance" at the institutional side was part of the project.
The aim was to achieve a long-term maintenance of the structures that had been established "The solutions described in the book can now also serve as blueprints for other arid regions of the world which are affected by climate extremes such as floods and drought," says water researcher Liehr. The implementation of integrated water resource management is not only urgent in areas where natural water sources have always been scarce, like for instance in northern Namibia. But it is in fact becoming apparent that climate change will increase the pressure on water as a resource in many other places as well.
Stefan Liehr, Johanna Kramm, Alexander Jokisch & Katharina Müller (ed.) (2018): Integrated Water Resources Management in Water-scarce Regions: Water Harvesting, Groundwater Desalination and Water Reuse in Namibia. IWA Publishing
About CuveWaters
CuveWaters war a cooperative project run by ISOE – Institute for Social-Ecological Research and the Technische Universität Darmstadt (Institute IWAR). It was funded by the Federal Ministry for Education and Research (BMBF). The partners in Namibia included the Ministry of Agriculture, Water and Forestry (MAWF), Outapi Town Council and the Desert Research Foundation of Namibia (DRFN).
Contact
Institute for Social-Ecological Research (ISOE)
Hamburger Allee 45
60486 Frankfurt am Main
Germany
Phone:
+49 69 707 69 19-0
Fax:
+49 69 707 69 19-11
E-Mail:
info@isoe.de
Internet:
To website