Supply of TBM for Oztas Co. - Gûrpinar & Firuzkoy Tunnels, Istanbul
Turkish contractors Oztas Co. have signed a contract for the supply of a refurbished LOVAT RME136SE Series 19500 Earth Pressure Balance Tunnel Boring Machine [TBM]. The TBM will be utilized in the construction of the Gûrpinar & Firuzkoy Tunnels located in Istanbul, Turkey. The TBM will undergo a complete refurbishment at LOVAT's facilities in Toronto, Canada, including conformity to European "CE" standards.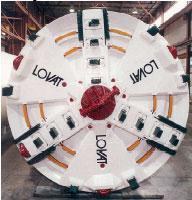 The 3.5 meter diameter mixed face TBM will first bore the 5,227 meter long Gûrpinar tunnel predominately located in Gürpinar Formation, mainly anticipated to consist of hard to stiff over-consolidated plastic clay with some weak sandstone, siltstone, claystone and tuff. A small portion of the tunnel alignment will be in a formless landslide complex consisting of water saturated sand layers. A faulted zone is likely to be encountered, in which greater water inflow is expected. The entire alignment is below the groundwater level, with a maximum groundwater height above the tunnel invert of 60 meters.
The TBM will then bore the 3,770 meter long Tahtakale-Ambarh Wastewater Tunnel in Firuzkoy through three distinctive formations: the Kuºdili Formation, consisting of very soft to firm sandy-silty-clay; the Ceylan Formation, consisting of limestone with marl fragments and clay layers; and also through the Gûrpinar Formation as described above. Groundwater levels will vary from 1 to 48 meters below the surface, with the entire alignment below the groundwater level.
The TBM is scheduled to be delivered to Istanbul prior to year's end.
For further information:
LOVAT
441 Carlingview Drive
Toronto, Ontario, M9W 5G7
Canada
Tel: +1 416 675 3293
Fax: +1 416 675 6702
E-mail: tbm@lovat.com
Web: www.lovat.com